8

Potatoes

peeled and cubed

4 cups

Chicken bouillon

or enough to cover potatoes

1/4 cup

All-purpose flour
Easy Creamy Potato Soup
This Easy Creamy Potato Soup is my favorite soup to make for a special occasion. The recipe is based on a soup I ate one evening in a little bistro on a side street in Paris. I no longer remember the name of that restaurant, but the memory of the rich bacon-flavoured potato soup has stayed with me!
Soup might not be a food you associate with special occasions or treats, but this recipe is not like any soup you've tasted before! Using potatoes, bacon, onion and celery, butter, cream and herbs, this recipe makes the most delicious, creamy potato soup you could dream of.
The secret ingredient for adding French flair in this recipe is tarragon which is a very commonly used herb in French cuisine. It has a very unique and distinct flavour which pairs very well with the potato and bacon in this recipe.
To make Absolutely Ultimate Potato Soup, you will need the following ingredients: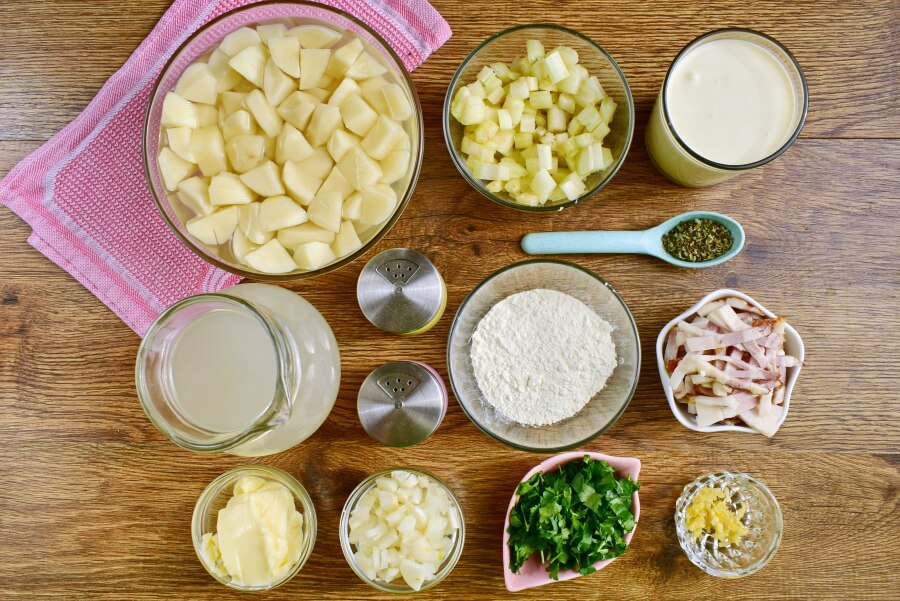 So, how to make Easy Creamy Potato Soup?
Steps to make Easy Creamy Potato Soup
Cook the bacon

5

Cook the celery, onion and the garlic

4

Stir in the potato cubes and sauté

4

Add the bacon and chicken stock and simmer

20

Melt the butter and mix with flour

1

Add cream and herbs

1

Bring to the boil

2

Add to the potato mixture

5

Puree and season

1

Serve

5