1 ½ tbsp

Olive oil

extra-virgin

½ cup

Panko breadcrumbs

preferably whole-wheat

8 tbsp

Parmesan cheese

grated, divided

3 tbsp fresh

Parsley

finely chopped

1 (9 oz) package

Tagliatelle

or linguine

1 cup

Frozen peas

or fresh
Easy Pea & Spinach Carbonara
I love to make this Easy Pea & Spinach Carbonara for a midweek meal which is healthy and delicious and takes only 15 minutes. Carbonara is one of the darlings of Italian cuisine – creamy egg sauce with crispy bacon mixed with spaghetti, what's not to love about this classic? The lack of vegetables maybe?! That's why I've come up with this healthier take on Carbonara.
I make my green carbonara by whisking Parmesan cheese, egg yolks, egg, pepper and salt together. I boil pasta in a large pan of boiling water with spinach and peas. When the pasta is cooked, I drain the water and reserve ¼ cup to loosen the egg mixture. I gradually mix the egg sauce with the pasta and I serve topped with toasted breadcrumbs and garlic. Yum!
To make Easy Pea & Spinach Carbonara, you will need the following ingredients: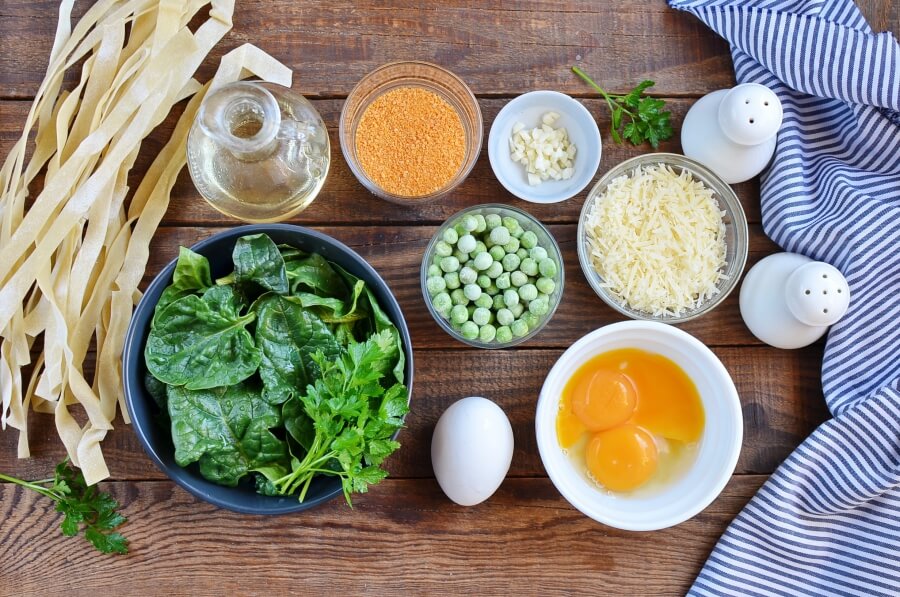 So, how to make Easy Pea & Spinach Carbonara?
Steps to make Easy Pea & Spinach Carbonara
Bring water to a boil

5

Toast breadcrumbs and garlic

2

Transfer breadcrumbs to a bowl with Parmesan and

1

Cook pasta, spinach and peas

5

Drain pasta

1

Make sauce

1

Add sauce to pasta

1

Serve

2