1 cup

Strawberries

finely chopped

8 tbsp

Sugar

divided (1 tbsp + 6 tbsp + 1 tbsp)

5 tbsp

Water

divided (2 tbsp + 3 tbsp)

½ cup

Heavy whipping cream
Fresh Strawberry Mousse
This Fresh Strawberry Mousse is a great make ahead dessert for summer entertaining. I always thought of mousse as one of those restaurant dishes that I would never be able to make at home. That was until I found out about this method and I realise that making strawberry mousse is actually not so complicated! The only special equipment you need is a candy thermometer.
The method is described in more detail below, but all you'll need to do is puree some strawberries with a little sugar. Prepare some sugar syrup and separately prepare some gelatin. Then combine beaten egg whites and sugar with whipped cream and fold in the pureed strawberry. This mousse comes together beautifully! You'll be wondering why you avoided mousse for so long!
To make Fresh Strawberry Mousse, you will need the following ingredients: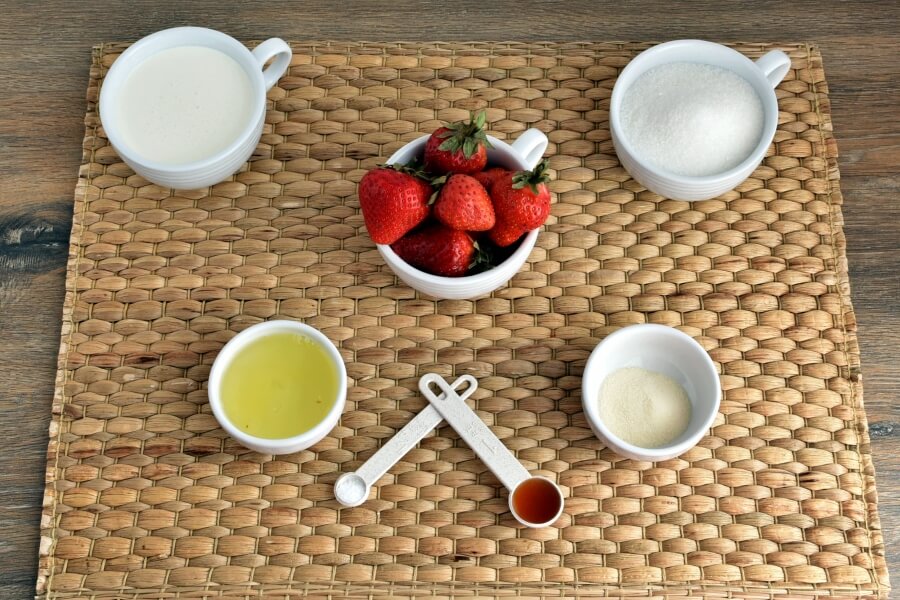 So, how do you make Fresh Strawberry Mousse?
Steps to make Fresh Strawberry Mousse
Prepare gelatin

5

Blend the strawberries with the sugar

10

Make sugar syrup

2

Continue to cook the syrup

3

Whisk the egg whites

2

Add remaining sugar

3

Add sugar syrup and vanilla

Whip cream

3

Fold the beaten egg whites into the whipped cream

2

Fold in the strawberry puree

2

Divide into individual portions

3

Serve