2

Eggplants

large, cut into ¼-inch-thick slices

2 tbsp

Olive oil

extra-virgin, divided

1 (28 ounce)

Can crushed tomatoes

no-salt-added

1 (16 ounce) package Firm

Tofu

crumbled and patted dry

1 cup

dairy-free Mozzarella-style cheese

shredded

Basil

fresh, chopped, to garnish
Gluten Free Eggplant Lasagna
This Gluten-Free Eggplant Lasagna is not only free from gluten, it's also vegan since it uses a dairy-free mozzarella-style cheese. Dairy-free, gluten-free, egg-free? Tell me more! This "lasagna" substitutes pasta sheets for eggplant slices making it a healthy and wholesome lasagna alternative.
To make this, start by roasting the eggplant. While the eggplant is cooking, make a tomato sauce and a tofu substitute for the traditional ricotta cheese. When it comes to assembling the lasagna, layer up the eggplant, tomato, tofu and dairy-free mozzarella. Alternate the eggplant layers so that the middle layer of eggplant slices are crosswise to the top and bottom layer. This will help keep the layers together when you cut into it.
To make my Gluten-Free Eggplant Lasagna, you will need the following ingredients: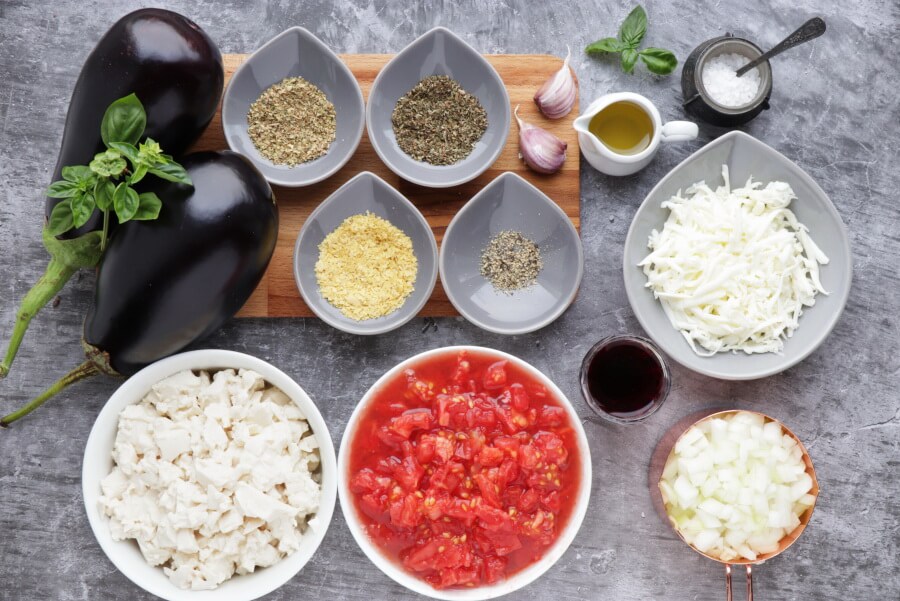 So, how do you make Gluten-Free Eggplant Lasagna?
Steps to make Gluten Free Eggplant Lasagna
Heat the oven and prepare 2 baking sheets

5

Roast the eggplant

20

Fry the onion

4

Add garlic, tomatoes, wine, basil, oregano, salt and pepper

1

Simmer and cook

10

Make ricotta substitute

1

Assemble the lasagna

4

Cook the lasagna

40

Serve

10