1-oz package of

Shiitake mushrooms

dried

4 (6x4-inch pieces)

Kombu

Japanese brown seaweed, about 1 oz

2

Onion

medium, unpeeled, halved through the root and very thinly sliced, about 14 oz

1

Carrots

medium, unpeeled, very thinly sliced, about 4.5 oz

1 stalk

Celery

about 3.5 oz. thinly sliced

1 head

Garlic

halved crosswise
Hearty Vegetarian Umami Broth
This Hearty Vegetarian Umami Broth makes a flavorful and deeply satisfying base for a variety of soups, risottos, sauces and stews. Packed with umami flavor from dried shiitake mushrooms, dried kombu, and miso, this recipe uses only vegan and vegetarian-friendly ingredients. You can even enjoy this broth on its own, topped with sliced green onions, fresh herbs of choice, or chili pepper for a spicy kick.  
To make this vegetable broth, bake the crushed mushrooms and kombu along with vegetables, fresh parsley and miso until fragrant. Once the vegetable mixture is baked and sticking to the pan, the pan is deglazed to lift all the extra depth from the bottom. Add the vegetable mixture, pan juices, peppercorns, and cold water to a large stock pot and bring to a boil. Simmer the broth until reduced by half, then let it cool to room temperature. Lastly, strain the broth into a large airtight container and store in the refrigerator for three days or freeze for up to three months. Enjoy! 
To make the Hearty Vegetarian Umami Broth, you will need the following ingredients.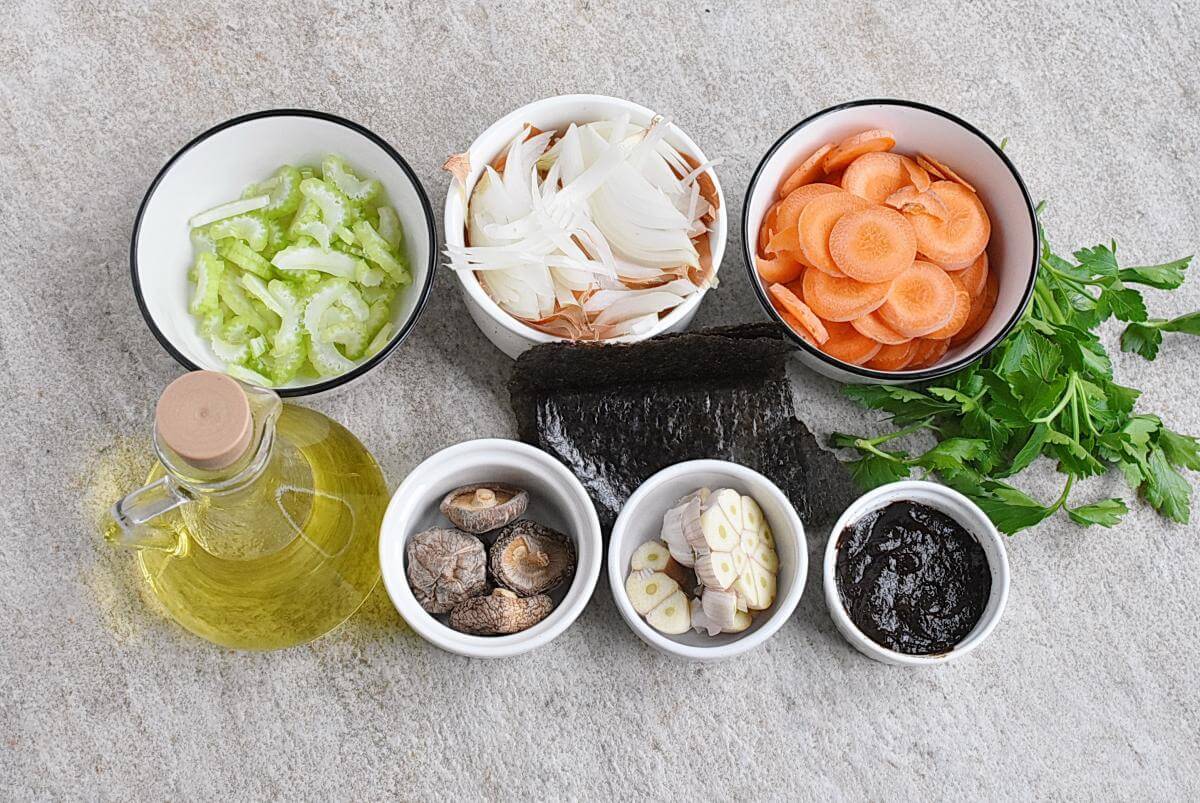 Steps to make Hearty Vegetarian Umami Broth
Preheat oven

5

Preheat the oven to 300 ºF.

Thin miso paste

2

Prepare mushrooms, kombu and vegetables

2

Crush 1 ounce dried shiitake mushrooms and 4 pieces kombu with your hands over a rimmed baking sheet. Add 2 sliced onions, 1 sliced carrot, 1 sliced celery stalk, 1 halved garlic head, and 6 sprigs fresh parsley and toss to combine. Drizzle the thinned miso paste over the vegetable mixture and toss to coat well.

Bake

60

Deglaze pan

2

Simmer

60

Strain

3

Serve