1 1/2 tsp

Stevia or any liquid sweetener

For the cheesecake topping:

2-3 tbsp

Stevia or any liquid sweetener

For serving:
No-Bake Keto Cheesecake
This low-carb No-Bake Keto Cheesecake is as creamy and delicious as any other cheesecake but works great as part of your Keto diet! The base is made from a combination of almond flour, pecans, and butter, giving it a wonderful nutty flavor that's enhanced by a pinch of cinnamon.
The cheesecake filling is a classic combination of sour cream and cream cheese, flavored with sharp lemon and fragrant vanilla. Use your favorite sweetener for both the base and the filling, whichever one you've found most suits your taste. This cheesecake is delicious served with a generous dollop of whipped sour cream and some sweet and juicy strawberry slices.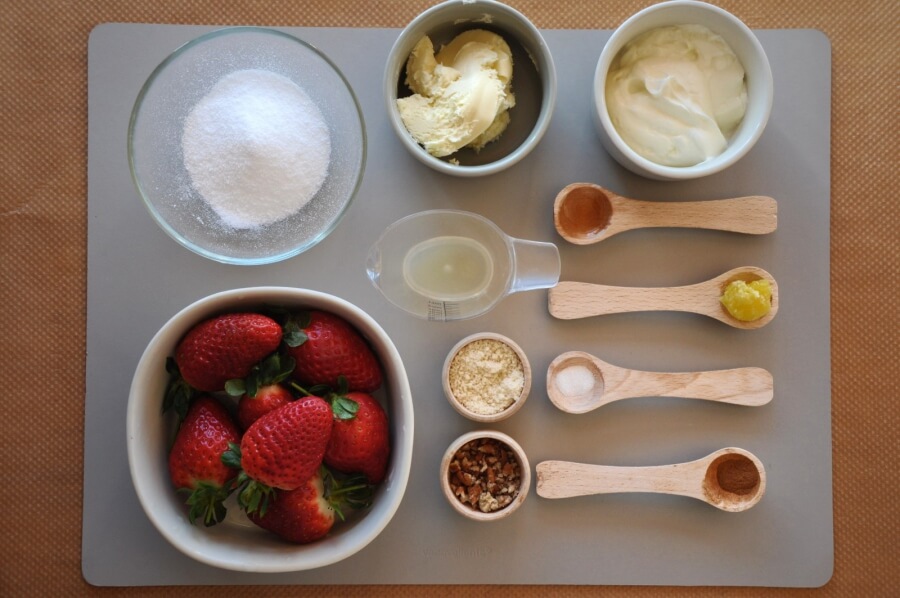 So, how to make No-Bake Keto Cheesecake?
Steps to make No-Bake Keto Cheesecake
| | |
| --- | --- |
| 4 | Toast the flour and pecans |
| 1 | Combine the flour with the sweetener |
| 1 | Add the butter |
| 1 | Add the crumb to serving glasses |
| 3 | Chill the base |
| 3 | Beat the sour cream |
| 2 | Beat the cream cheese and butter |
| 1 | Add the flavorings |
| 2 | Add the sour cream |
| 2 | Add the cheesecake filling to the glasses |
| 35 | Freeze the cheesecakes |
| | Serving No-bake Keto Cheesecake |