3 cooked

Chicken Breast

shredded into small pieces

16 oz

Can chopped pineapple

cut into small chunks

6

Eggs

hard-boiled , peeled and grated

For the Mayonnaise:
Pineapple Chicken Salad
This Pineapple Chicken Salad is juicy, fresh and mouthwateringly tasty. As a self proclaimed Salad Queen, I love inventing new and cool salad ideas and combinations.
This time, I decided to make a salad in a springform cake pan, and do you wanna bet that it's better than cake! Layers of homemade mayonnaise, lettuce, shredded chicken, pineapple chunks, shredded cheese and hard-boiled eggs. Top with sprinkles of walnuts and dill for garnish and decoration.
To make Pineapple Chicken Salad, you will need the following ingredients: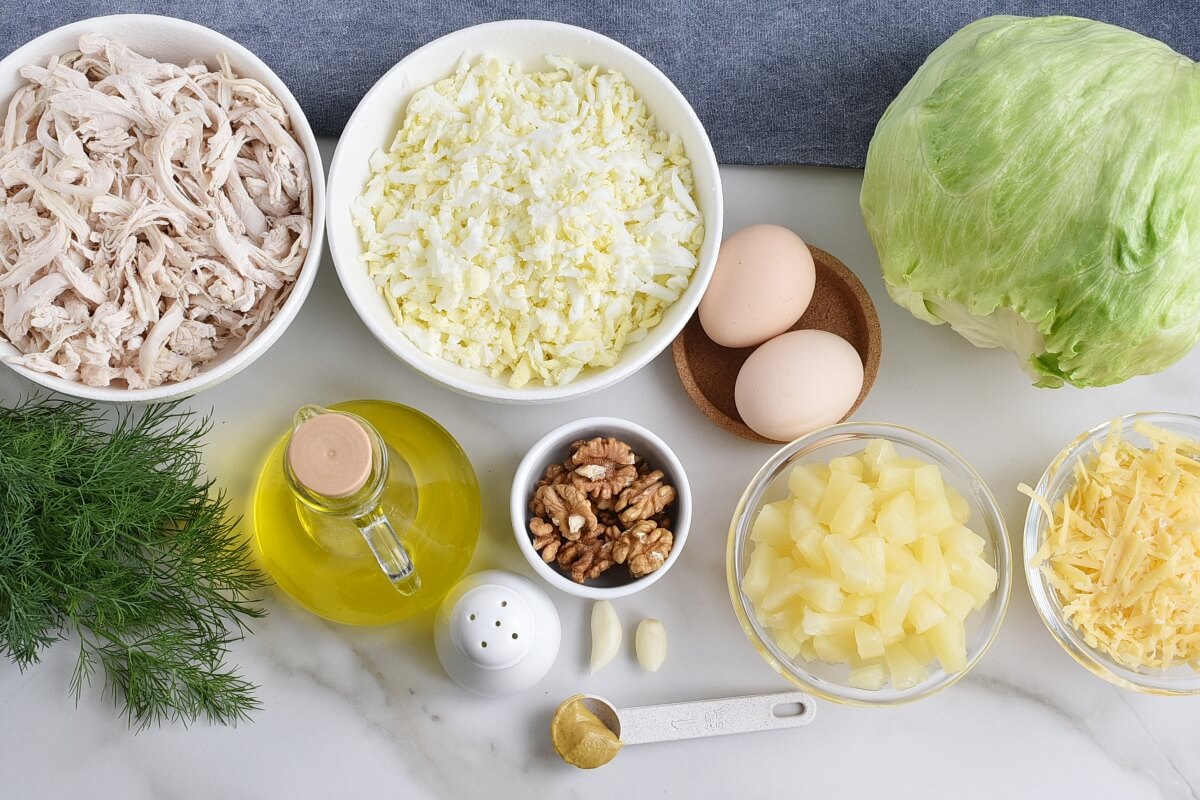 Steps to make Pineapple Chicken Salad
Prepare mayonnaise

4

Prepare salad

4

Using a springform pan, line the base with a few iceberg lettuce leaves and top with layers of homemade mayonnaise then shredded chicken, homemade mayonnaise, pineapple chunks, homemade mayonnaise, grated eggs, homemade mayonnaise, shredded cheese, homemade mayonnaise, shredded chicken, homemade mayonnaise, pineapple chunks, homemade mayonnaise, grated eggs, and finally top with remaining shredded cheese.

Add toppings

2

Serve