For the marinade:

½ cup

Plain yogurt

whole milk

1 tbsp

Fresh ginger

sliced

2 tsp

Ground paprika

not smoked

For the chicken:

1½ - 2 lbs

Chicken thighs

boneless, skinless

1 layer

Mixed vegetables

sliced or diced ½-inch thick

For the garnish:
Sheet Pan Tandoori Chicken
This Sheet Pan Tandoori Chicken is a really quick dinner which is all cooked in the same dish, cutting down on prep and cleaning up time! I use a variety of vegetables when I make this dish, depending on the season or what I have hanging around the kitchen. You can use carrots, winter squash, sweet potato, onion, cauliflower, zucchini, peppers, potatoes, eggplant, parsnips – whatever takes your fancy!
To make this one pan dinner, start by making a marinade for the chicken. As the meat marinates, prepare your veggies by dicing or slicing them into ½-inch pieces. Toss the vegetables with olive oil, salt and pepper and spread them out on the baking sheet. Place the marinated chicken on top and spoon some of the marinade over them if you like. Bake in the oven and baste with more marinade 10-12 minutes before the chicken is cooked through and the veggies are tender. 
To make Sheet Pan Tandoori Chicken, you will need the following ingredients: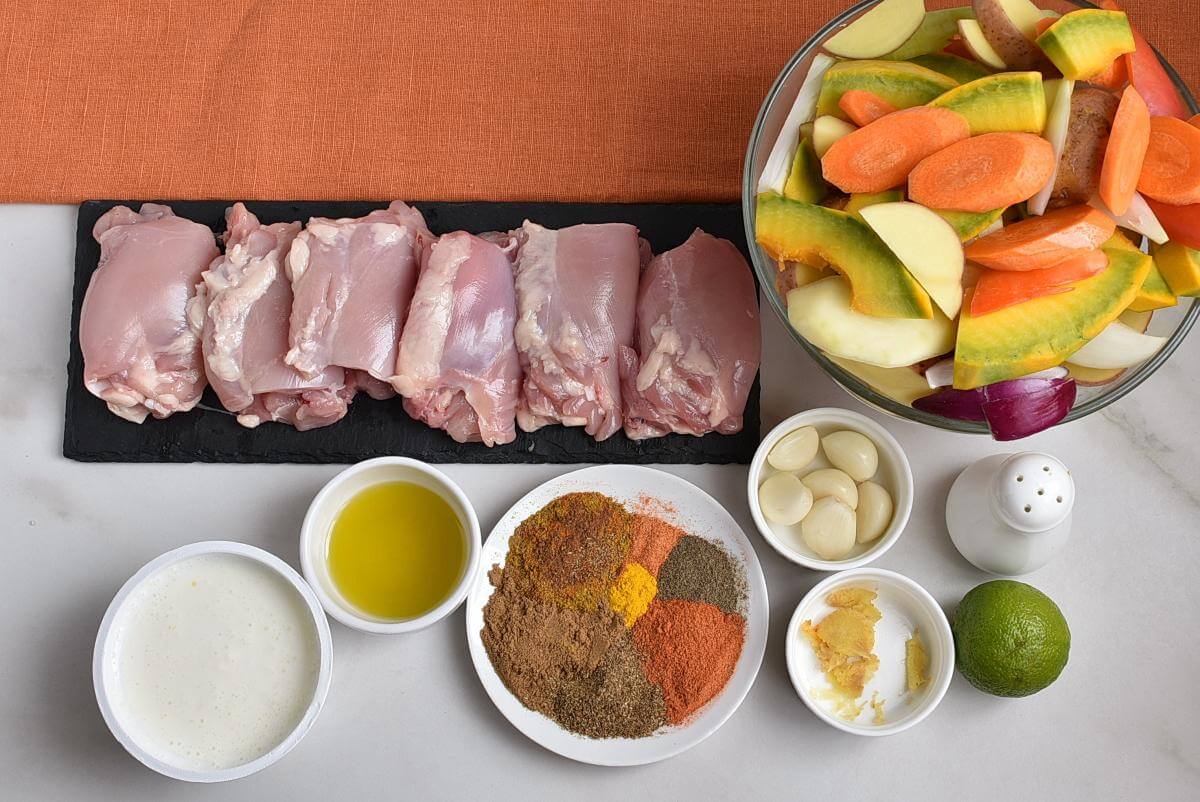 Steps to make Sheet Pan Tandoori Chicken
Heat oven and line a sheet pan

5

Make marinade

3

Place ½ cup of plain yogurt in a blender with 2 tablespoons of olive oil, 1 tablespoon of lime juice, 6 minced garlic cloves, 1 tablespoon each of sliced fresh ginger, ground coriander, ground cumin, 2 teaspoons each of garam masala and paprika, ½ a teaspoon of turmeric powder, ¼ teaspoon of cayenne, 2 teaspoons of kosher salt and 1 teaspoon of pepper. Blend until smooth and set aside ¼ cup.

Marinate chicken

5

Prepare vegetables

5

Place chicken on pan

2

Bake

25

Serve