2 cups

Garlic scapes

trimmed with the bulb removed
Special Vegan Banchan for Garlic Lovers
You will love this quick and easy recipe for Special Vegan Banchan for Garlic Lovers. The Korean word banchan literally translates to "side dishes". Korean meals are a communal affair – each person gets their own bowl of rice and their own bowl of soup, but in general everything else is shared. For this reason, a selection of banchan usually accompany Korean meals.
This is a special banchan for garlic lovers which is made with garlic scapes. Garlic scapes are the pretty spiral stalks that grow from a garlic bulb. These stalks are often cut off in Spring to encourage the plant to put its energy into the bulb. They have a mild and sweet flavor, like chives or scallions, but with an unmistakable garlicky hint.
This banchan couldn't be easier. Simply toss the veggies in some hot oil, add some soy sauce and garnish with sesame seeds. It's a great way to use garlic scapes in the kitchen.
To make Special Banchan for Garlic Lovers, you will need the following ingredients: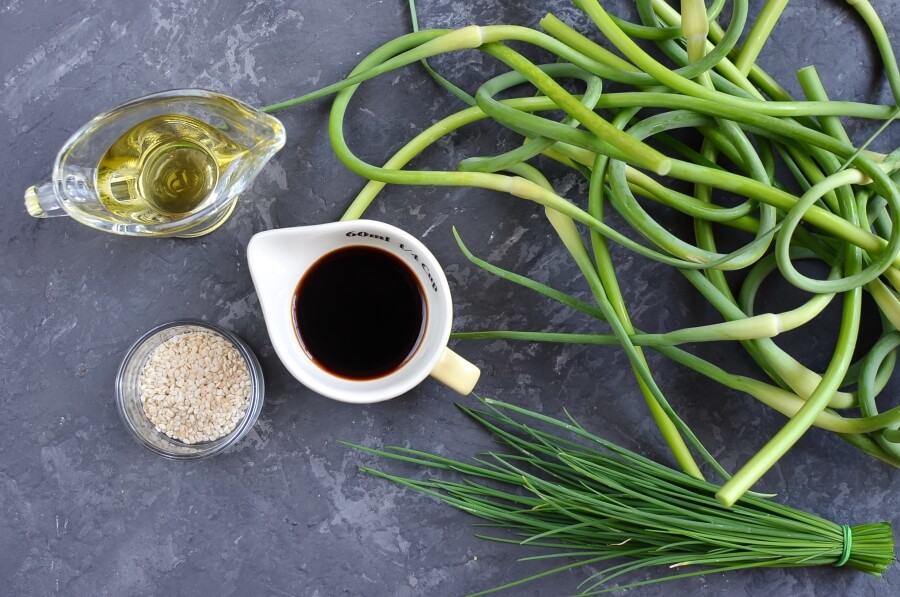 So, how do you make Special Banchan for Garlic Lovers?
Steps to make Special Vegan Banchan for Garlic Lovers
Prepare the vegetables

3

Add the chives

2

Add the garlic scapes and soy sauce

1

Stir fry the veggies

10

Serve

1