12-inch

Italian pizza

pre-baked

2 cups

Spinach

washed leaves

1 cup

Feta cheese

crumbled

1/2 cup

Sun-dried tomatoes

roughly chopped

1 tbsp

Olive oil

from the sun-dried tomatoes

1/2

Red onion

halved and sliced thinly

1/4 cup

Olives

stones removed and roughly chopped
Spinach and Feta Pizza
My Spinach and Feta Pizza has all the flavors of a classic Greek salad, packed with fresh ingredients. Greek is one of my favorite cuisines. All those wonderful Mediterranean flavors, swimming in fragrant olive oil and scattered with newly picked herbs.
I've added the main ingredients of a Greek salad to this spinach feta pizza: oregano, red onion slices, feta, spinach, sun-dried tomatoes, olives and garlic. And I've made the recipe super easy, using a pre-baked pizza crust that you can buy from the store, so all you need to do is spread, scatter and sprinkle the delicious toppings over the top!
To make Spinach and Feta Pizza, you will need the following ingredients: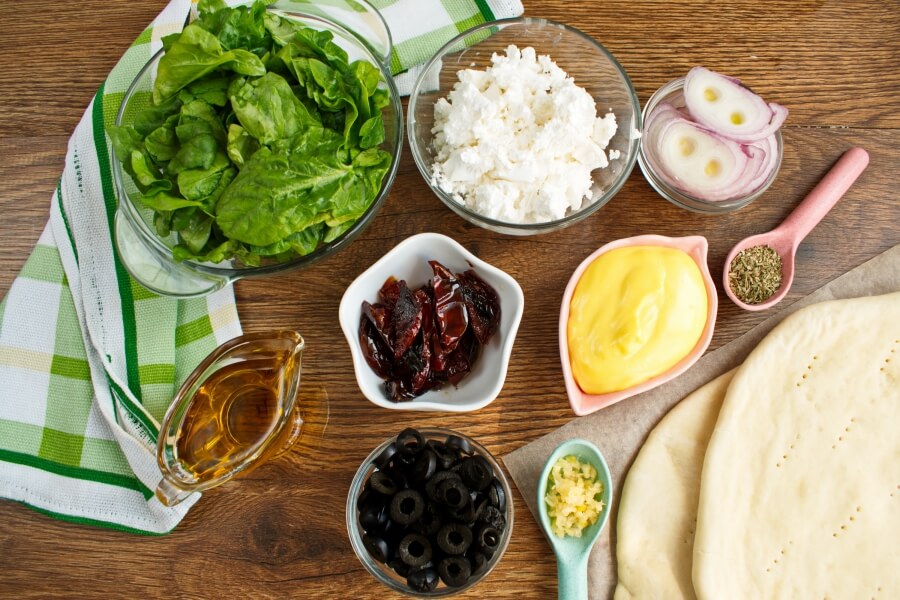 So, how to make Spinach and Feta Pizza?
Steps to make Spinach and Feta Pizza
Prepare the oven

5

Preheat the oven to 450°F and move the oven rack to the lowest rung.

Make the feta spread

1

Add the toppings

5

Bake the pizza

10

Dress the spinach

1

Add the remaining toppings

2

Continue baking

2

Serve

2