1/2

Flaky Pie Crust

see recipe
Spinach and Cheese Quiche
My Spinach and Cheese Quiche is a heavenly combination of oozing cheese, irony spinach and crumbly pastry. Loaded with different flavors, including mushrooms and garlic, the soft, tasty filling works perfectly with the crisp, buttery Flaky Pie Crust .
It's not at all tricky to make, but looks like you really made an effort, especially with the fact that your pastry is homemade! Check out my simple pie crust recipe, which you can make in advance for an even easier process!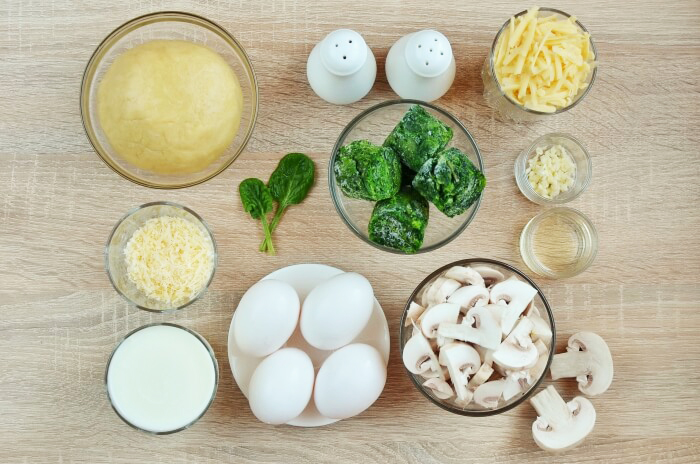 So, how to cook Spinach and Cheese Quiche?
Steps to make Spinach and Cheese Quiche
Preheat the oven

2

Preheat oven to 350°F and lightly grease a 9-inch pie dish.

Cook the mushrooms

7

Roll the dough

4

Flour a work surface and take the dough out of the refrigerator. Roll the dough out, turning it a quarter of a turn ever few rolls so that you have an even circle. The circle should be big enough to cover the bottom and sides of the pie dish, around 12 inches in diameter. Gently drape the circle of dough over the pan and press it into the bottom and sides of the dish. Trim the excess dough from the sides of the dish.

Bake the pastry case

10

Combine the filling

3

Add the fillings to the pie crust

4

Bake the quiche

50

Serving Spinach and Cheese Quiche

5