1 cup

Red lentils

dry, rinsed in a sieve or strainer

½ cup

Green bell pepper

finely chopped

½ cup

Yellow onions

finely chopped

For the toppings

2 cup

Red cabbage

optional

4 tbsp

Lime juice

optional
Vegan Lentil Taco Salad Bowls
Vegan Lentil Taco Salad Bowls are my Sunday jam! I make these most Sundays in place of the traditional Sunday roast. Not only do these taco salad bowls taste delicious, they are healthy and wholesome too!
I make the lentil base by sautéing onions, garlic and green pepper in hot oil. I cook the lentils in a pan of water. Once they are cooked, I add them to the onion pan along with black beans, tomato paste and taco seasonings. And that's it – I assemble the salad bowls with a selection of toppings like red cabbage, avocado, green onions, tomato and lime wedges.
To make my Vegan Lentil Taco Salad Bowls, you will need the following ingredients: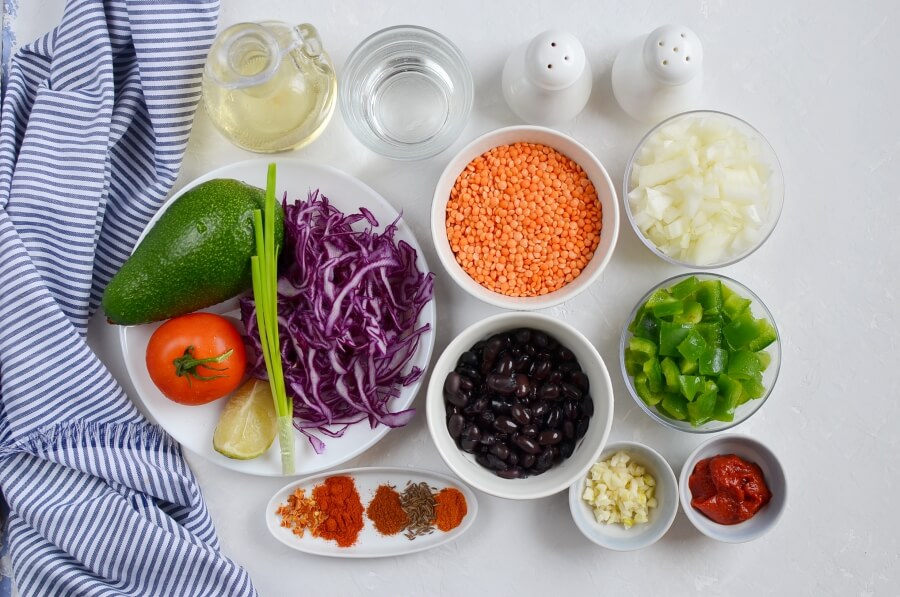 So, how do you make Vegan Lentil Taco Salad Bowls?
Steps to make Vegan Lentil Taco Salad Bowls
Sauté onions

5

Add garlic and green pepper

5

Cook lentils

12

Mix lentils and black beans with the onion and green pepper

1

Mix the lentils and black beans with the onion and green pepper. Place over low/medium heat.

Add tomato paste and seasonings

2

Serve

3