2 tbsp

Olive oil

extra-virgin

1

Yellow onions

medium , chopped

2 cups

Butternut squash

¼" diced

8 oz

Cremini mushrooms

chopped

5

Sage

fresh leaves, chopped

1 (14 oz) can

Diced tomatoes

1 (14 oz) can

Cannellini

beans

6

Fresh thyme

sprigs, bundled and tied with string

Pecorino

optional, for serving

French baguette

toasted, optional, for serving
White Bean Tomato Mushroom Soup
This White Bean Tomato Mushroom Soup is a delicious winter warmer full of filling ingredients like cannellini beans, broth, and butternut squash. This soup is vegetarian, too, and can easily be adapted if you are cooking for a friend who's vegan! 
To make this soup, start by sauteing onion. Add the butternut squash, celery, and mushrooms and season. Cook until soft and add garlic, bay leaves, sage, and herbes de Provence. Stir and add wine, vegetable broth, tomatoes, beans, and bundled thyme sprigs. Simmer for 30 minutes until thickened. Remove thyme stems and bay leaves and discard.
Add balsamic vinegar and chopped spinach. Taste and adjust seasoning to taste. Serve with toasted Buttery Fluffy Cornmeal Dinner Rolls and Pecorino cheese.
To make White Bean Tomato Mushroom Soup, you will need the following ingredients: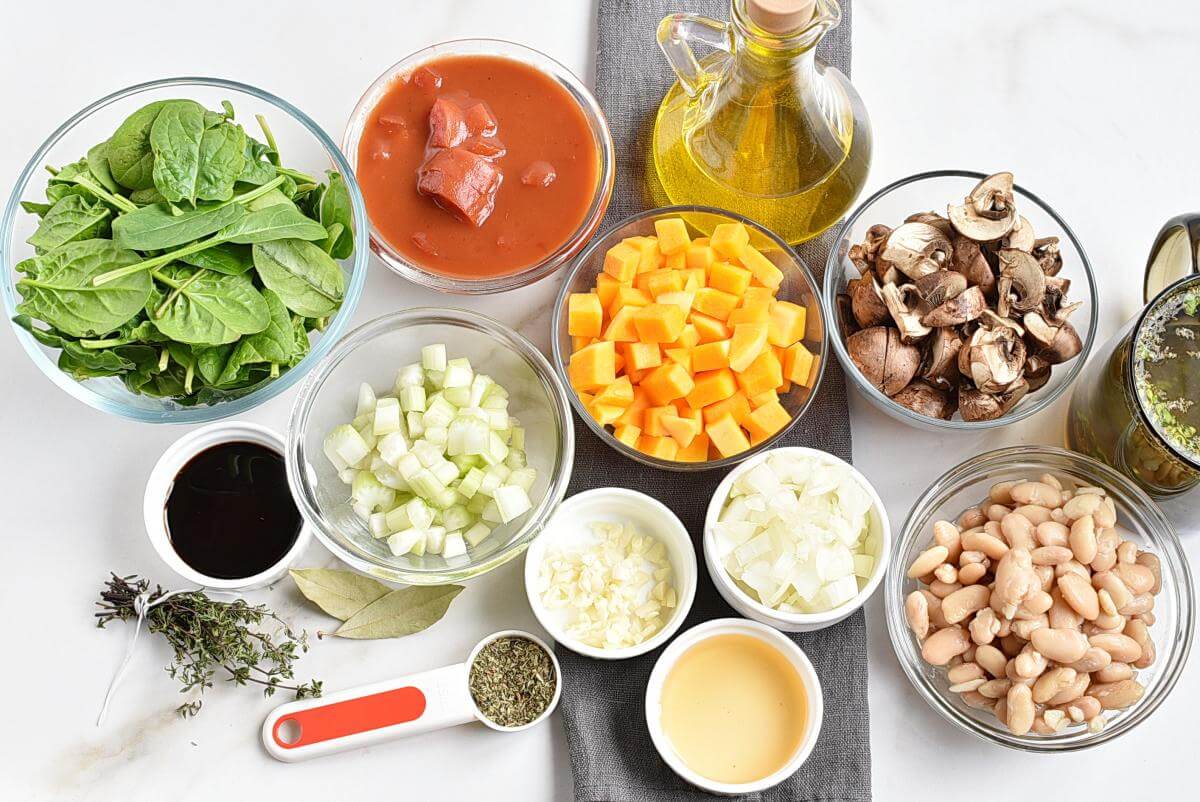 Steps to make White Bean Tomato Mushroom Soup
Sauté onion

5

Stir in butternut squash and celery

2

Add mushrooms and season

8

Add garlic and broth

20

Add 3 minced garlic cloves, 2 bay leaves, 5 sage leaves, and 2 teaspoons of herbes de Provence. Stir, then add ¼ cup of wine and stir again. Add 4 cups of vegetable broth, 1 can of tomatoes, 1 can of beans, and 6 thyme sprigs bundled. Simmer the soup for 20 minutes until thickened, stirring occasionally.

Remove whole herbs

Add balsamic vinegar and spinach

1

Serve