1

Onion

large, thinly sliced

1 tsp

Black pepper

freshly ground

1 (28 oz) can

Tomatoes

with juice, coarsely chopped

10 bone-in (about 3¾ pounds)

Chicken thighs

skin removed, trimmed

¼ cup

Parsley

finely chopped fresh
Wine & Tomato Braised Chicken
Wine & Tomato Braised Chicken is another one of my famous* slow cooker recipes. I love leaving the house in the morning knowing that when I return there will be a mouthwatering slow cooked chicken dinner waiting when I get home!
To make this, simply fry some bacon until it is crisp. Then cook onions, garlic, thyme, fennel seeds, pepper and bay leaf. Add wine and tomatoes to make a sauce and then place everything in the slow cooker and cook until the chicken is tender and falling off the bone. Cooking times vary but it will take about 3 hours on high or 6 hours on low. Enjoy!
*famous in my house at least!
To make Wine & Tomato Braised Chicken, you will need the following ingredients: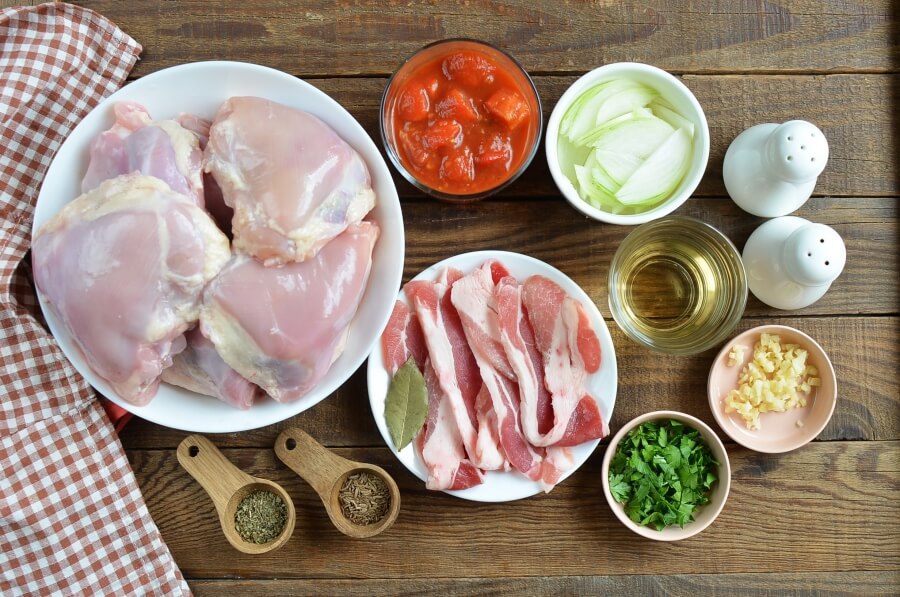 So, how do you make Wine & Tomato Braised Chicken?
Steps to make Wine & Tomato Braised Chicken
| | |
| --- | --- |
| 5 | Cook the bacon |
| 1 | Remove all but 2 tablespoons of fat from the pan |
| 5 | Cook the onion |
| 1 | Add garlic, thyme, fennel seeds, pepper and bay leaf |
| 2 | Add wine and deglaze |
| 1 | Add tomatoes |
| 1 | Place chicken thighs in the slow cooker |
| 1 | Pour in the sauce |
| 3h | Cover and cook |
| | Serve |