1

Large eggs

room temperature

1 ⅓ cups

Shredded coconut

sweetened

10 to 12 ounces

Apricot preserves
Winning Apricot Bars
The title of these Winning Apricot Bars says it all really – they are prize winning! No seriously, I entered them in my son's school charity bake off last year and they won first prize! They are so easy to make too – simply make some dough by creaming some butter and sugar. Then add the egg, vanilla, flour, coconut and walnuts.
The recipe uses apricot preserves as a topping and I love to use my Apricot Jam for this. Don't worry if you don't have time to make your own though – store bought preserves will work just fine too! Spread the preserves on top of the dough and bake for 30-35 minutes. So simple, so delicious!
To make the Winning Apricot Bars, you will need the following ingredients: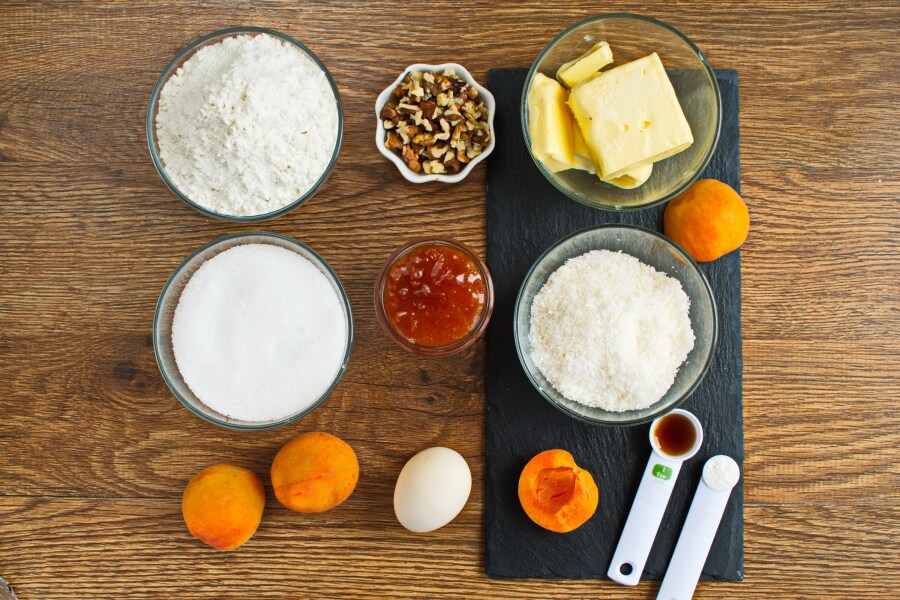 So, how do you make Winning Apricot Bars?
Steps to make Winning Apricot Bars
Heat the oven and prepare a baking pan

5

Cream butter and sugar

2

Add egg and vanilla

1

MIx flour and baking powder

1

Add flour to make dough

2

Fold in walnuts and coconut

1

Press dough into pan

5

Spread preserves on top

5

Bake

35

Cool

Serve