6 oz

Tilapia

or whitefish fillets
Blackened Cajun Fish
Succulent and perfectly spiced, this Blackened Cajun Fish recipe is an amazing way to cook fresh fish fillets. Cajun seasoning usually includes salt, garlic powder, paprika, black pepper, onion powder, cayenne pepper, oregano, thyme, and red pepper flakes.
I've left out the red pepper flakes to lower the heat level, as I like it spicy but not overpowering for the fish. By cooking the fillets over a super high heat the fish gets a lightly blackened crust, which gives it an amazing charcoal flavor, kind of the same effect as smoking it.
If you're looking for a Cajun-style tilapia recipe, this is an unusual and very delicious one!
To make Blackened Cajun Fish, you will need the following ingredients: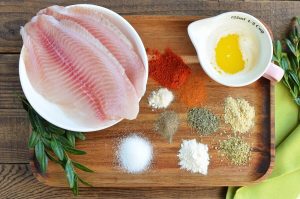 So, how to make Blackened Cajun Fish?
Steps to make Blackened Cajun Fish
Combine the Cajun seasoning

2

Heat a pan

5

Season the fish

5

Transfer the fillets to the pan

2

Cook the fillets

4

Turn the fillets

5