4 halves

Chicken Breast

skinless, boneless

½ cup

Parmesan cheese

grated

½ cup

Tomato sauce

prepared

¼ cup

Mozzarella

fresh, cut into small cubes

½ cup

Provolone cheese

grated

1 cup

Panko bread crumbs

or more if needed

¼ cup

Basil

fresh, chopped

1 cup

Vegetable oil

for frying

2 tbsp

All-purpose flour

or more if needed
Chicken Parmesan
I make this Chicken Parmesan on evenings when I feel inspired to be in the kitchen.
This is definitely another feel-good recipe and one of my personal favorites. Baked in a hot oven, lightly fried chicken with tomato sauce and 3 cheeses, crispy and oozing, it just warms the soul.
I love serving it with a side of boiled potatoes. The smooth texture of potatoes, drizzled with olive oil, compliments the crispy, cheese chicken just perfectly. Each bite is worth all the cooking time.
To make Chicken Parmesan, you will need the following ingredients: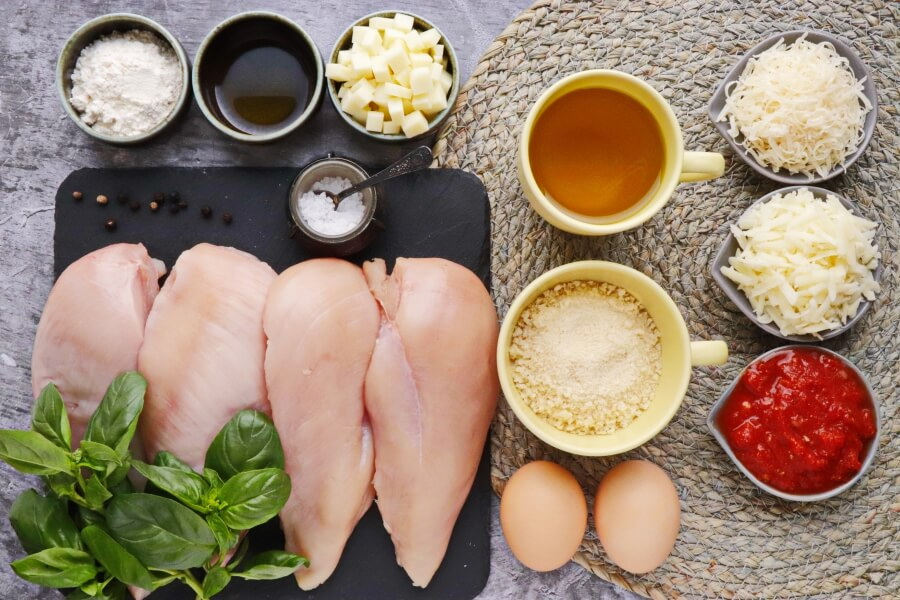 So, how to make Chicken Parmesan?
Steps to make Chicken Parmesan
Preheat oven

5

Preheat the oven to 450 °F.

Tenderize chicken

2

Beat eggs

2

Mix bread crumbs

1

Coat chicken breasts

5

Bread chicken breasts

20

Heat oil

2

Cook chicken

4

Add tomato sauce chicken

2

Add cheeses and basil

2

Bake in oven

20

Serve