For the creamy avocado sauce

½ cup packed

Cilantro

fresh leaves

½ cup

Sour cream

reduced-fat

For the tostadas

1 small

Orange bell pepper

3 cup

Chicken

coarsely shredded

¼ cup fresh Mexican

Cheese

crumbled, such as queso fresco
Chicken Tostadas with Avocado Sauce
These Chicken Tostadas with Avocado Sauce take me right back to a tiny taqueria I ate at in Mexico City when I travelled there. I had never tasted fresher Mexican food than in that taqueria and before I left, I asked the chef how she made them so creamy! She told me the secret to her creamy sauce – a blender. Now I'm sharing that recipe with you!
To make the sauce, you just puree avocado with cilantro, garlic, sour cream, lime juice, water and salt. The trick is to leave the blender running until the sauce is very smooth. Then you use this sauce to coat the shredded chicken and the lettuce, onion and pepper. Try these tostadas soon – you'll love them! Top tip – if you're making this in advance, the sauce and the salad will keep for up to one day in the refrigerator. You can assemble the rest of the ingredients just before you serve up!
To make Chicken Tostadas with Avocado Sauce, you will need the following ingredients: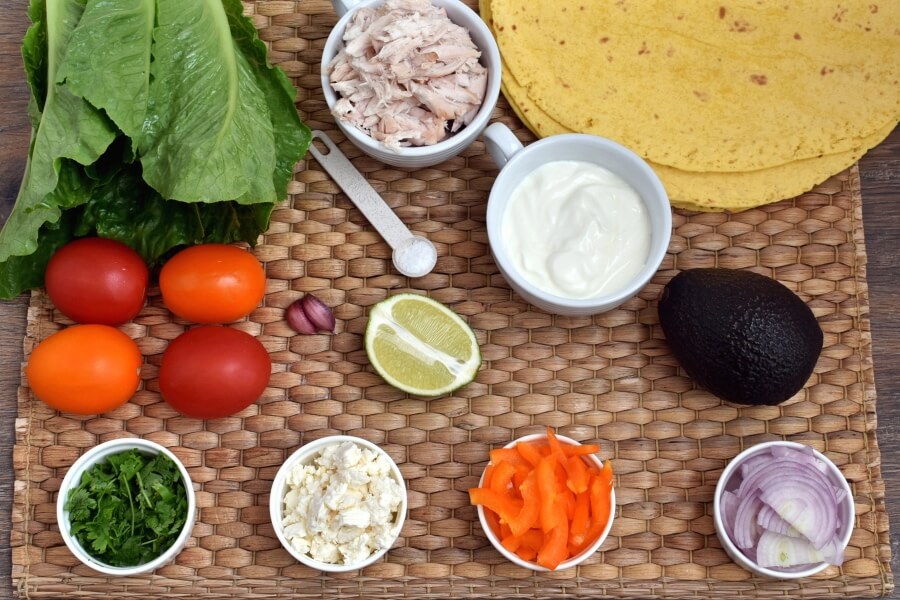 So, how do you make Chicken Tostadas with Avocado Sauce?
Steps to make Chicken Tostadas with Avocado Sauce
Make the avocado sauce

5

Make the salad

2

Mix chicken and creamy sauce

2

Add the remaining creamy sauce to the salad

2

Heat the tortillas

4

Assemble the tostadas

5

Serve