⅓ cup

Chicken broth

low-sodium

For garnish:
Cornish Game Hens with Garlic and Rosemary
Serve these Cornish Game Hens with Garlic and Rosemary to your guests at your next dinner party and watch them lick their fingers clean! You might be asking yourself what a Cornish hen is? Well wonder no more, a Cornish hen is a small version of the most common breed of chicken. Originally from Cornwall in England, you should have no problem finding them at your local grocery store. 
This dish gets all its flavor from a combination of 24 garlic cloves and sprigs of fresh rosemary. It's pretty simple to make too. Simply roast 4 seasoned Cornish hens with lots of garlic in a hot oven. Halfway through the cooking time, pour a sauce of wine, chicken broth and oil over the hens and garlic and continue roasting. At the end, reduce the sauce in a saucepan and there you have it! 
To make my Cornish Game Hens with Garlic and Rosemary, you will need the following ingredients: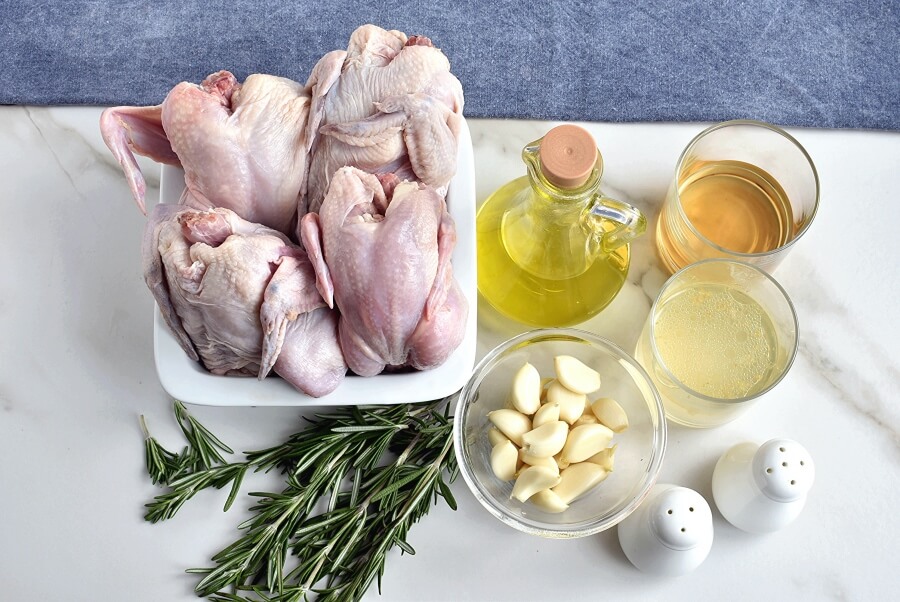 Steps to make Cornish Game Hens with Garlic and Rosemary
Heat the oven

5

Preheat the oven to 450 °F.

Season and stuff hens

5

Roast

25

Prepare sauce

2

Reduce oven temperature

25

Remove hens from oven

3

Reduce sauce

5

Serve