1 lb

Spaghetti

or vermicelli pasta

1/2 cup

Parmesan cheese

grated

3 1/2 cups

Spaghetti sauce

to taste

Black pepper

ground
Easy Pasghetti Pizza
What's not to like about the sound of Pasghetti Pizza?
I let my imagination run wild with this one! Take the best bits of a pizza – the toppings and add to the best bits of a pasta – the sauces and combine with a base of cooked pasta. It's genius! Well, my kids think so anyway! The pizza 'base' is made from cooked pasta, baked with a creamy egg and cheese sauce (a bit like the sauce you might make for a carbonara) until it becomes firm. The 'topping' is a classic tomato sauce, pepperoni and mozzarella, just like a regular pizza! It's easy and delicious to make, a wildly popular weeknight dinner!
To make Spaghetti Pizza, you will need the following ingredients: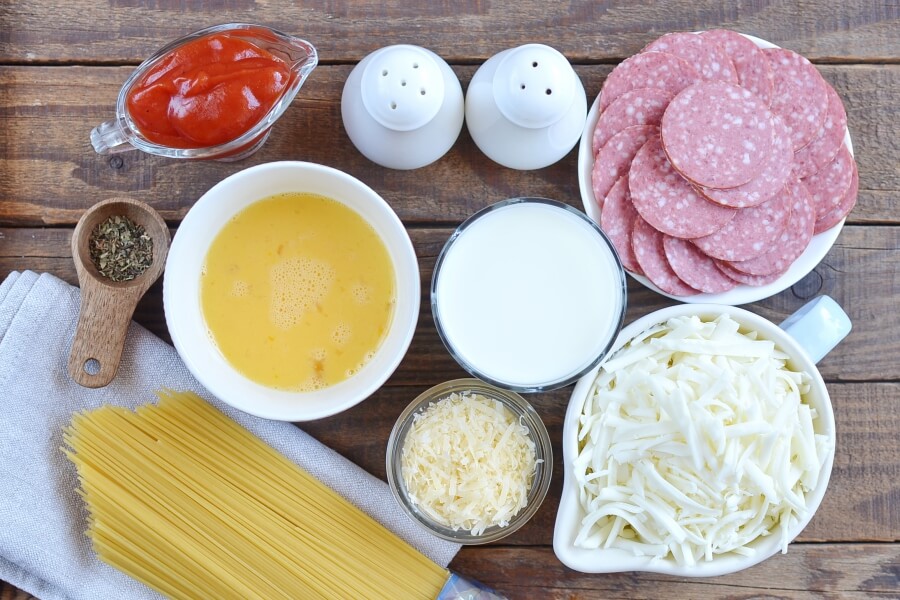 So, how to make Pasghetti Pizza?
Steps to make Easy Pasghetti Pizza
Heat the oven and prepare a baking dish

2

Cook the pasta

15

Lay the pasta base

3

Combine the wet ingredients and seasoning

3

Add the mixture to the pasta

3

Bake the pasta

15

Add the sauce and toppings

5

Bake Pasghetti Pizza

10