8 oz

Ham

pre-cooked, diced

2 tbsp

Curry

powder, or to taste

1 pound

Mushrooms

quartered

1 cup

Carrots

thickly sliced
Ham and Mushroom Barley Soup
This Ham and Mushroom Barley Soup is my one of my go-to lunch recipes. It is wholesome and filling as well as being easy to heat up in the microwave. If I know I am going to have a busy week at work, I whip up a batch of this soup on Sunday.
I refrigerate it in portions and use the soup for lunches during the week. I use ham, onions, butter, tomatoes, pearl barley, carrots and mushrooms and chicken broth to make the soup. I also include a secret ingredient – curry powder to give it extra flavor. While I don't advocate "dining al desko", there are some days when I don't even have time to run to the local café.
This soup is a perfect solution – I can take a short lunch break and know that I am eating something healthy and home-made. The pearl barley and ham mean that it fills me up until dinner time.
To make the Ham and Mushroom Barley Soup, you will need the following ingredients: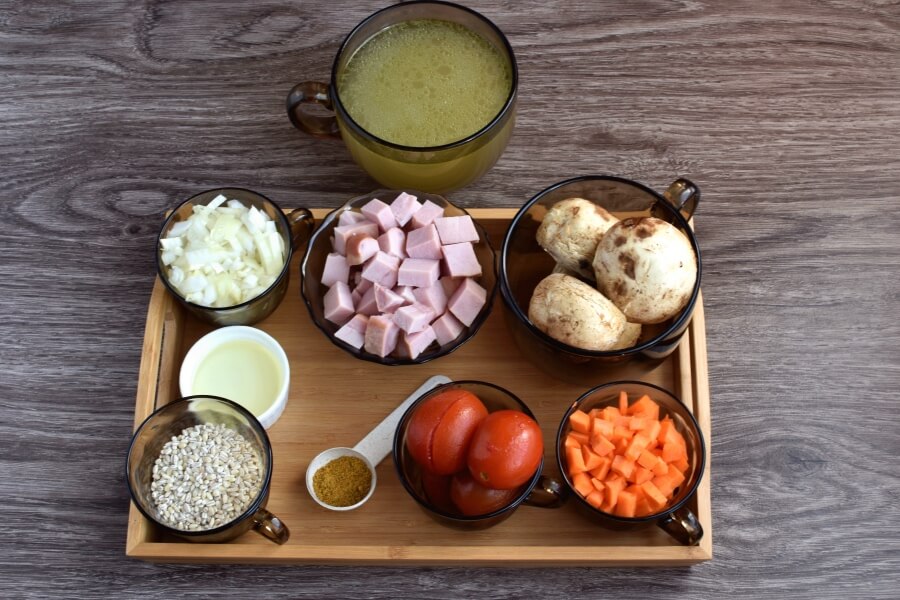 So, how do you make Ham and Mushroom Barley Soup?
Steps to make Ham and Mushroom Barley Soup
Heat butter in a pot

1

Cook the onions

3

Add ham and curry powder

1

Add broth, tomatoes and barley. Cook until ready

30

Add mushrooms and carrots and cook until tender

15

Heat through and serve