For kotlety:

½ large

Onion

finely grated + juice released from grating onion

1 clove

Garlic

finely grated or pressed

½ medium

Zucchini

finely grated

⅛ tsp

Black pepper

freshly ground

For mushroom/buckwheat filling:

¼

Onion

large , finely chopped

1 cup

Buckwheat groats

cooked

To dredge patties:
Lean Turkey Kotlety with Mushroom Filling
These Lean Turkey Kotlety with Mushroom Filling are one of my family's favorite meals. Kotlety simply means meat patties. This is slightly different from the usual meat patties in that it has a delicious moist mushroom filling. Absolutely delicious!
To assemble these patties, I like to set up a little kotlety assembly station. First in line, add some cold water to a bowl. You will need to keep your hands wet while molding the meat patties. Place the bowl of meat mixture next to the water bowl, followed by a bowl of mushroom filling and finally a shallow bowl with 1 cup of flour to dredge the patties once they are formed.
To make the Lean Turkey Kotlety with Mushroom Filling, you will need the following ingredients: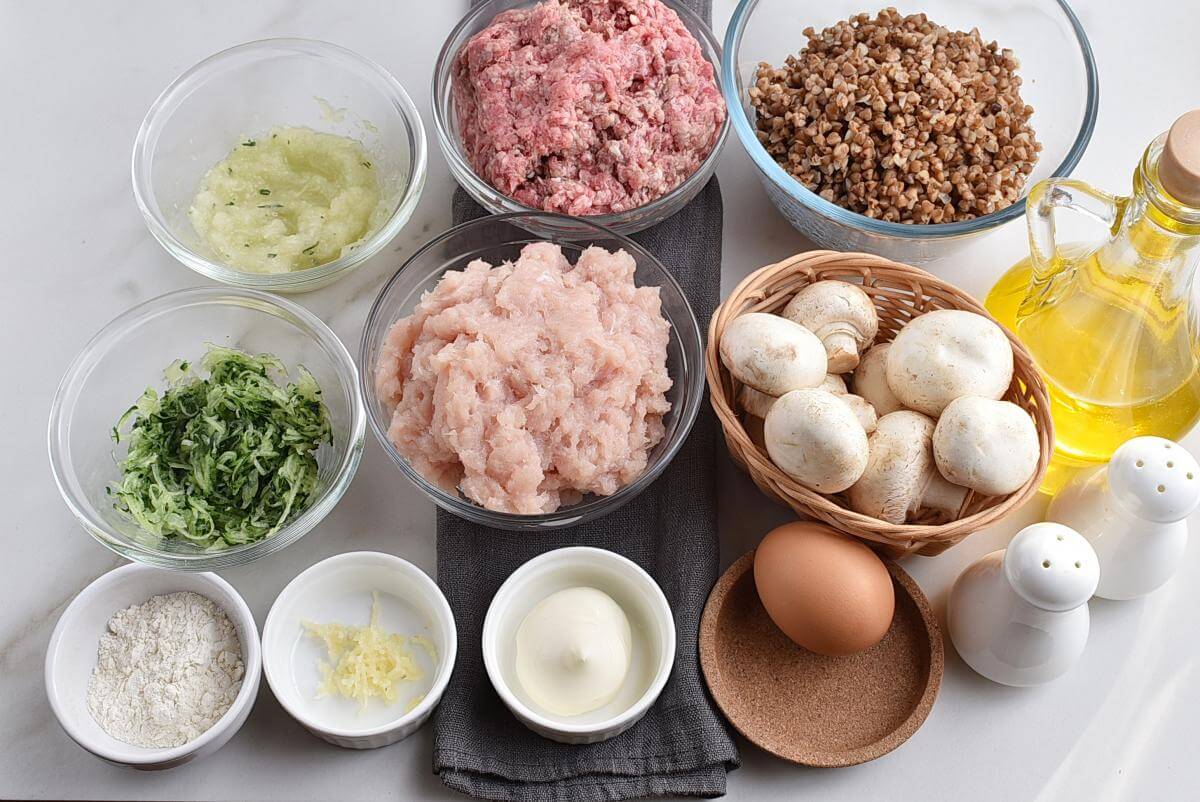 Steps to make Lean Turkey Kotlety with Mushroom Filling
Prepare filling

10

Heat 1 tablespoon of oil in a large non-stick pan over medium heat. Add ¼ finely chopped onion and saute for 2 minutes, stirring occasionally. Add ½ pound sliced mushrooms and saute for 4-5 minutes, stirring occasionally. Stir in 1 cup of cooked buckwheat and season with salt to taste. Remove the pan from the heat and set aside to cool.

Combine ingredients for patties

3

Set up assembly station

2

Shape patties

2

Repeat

10

Dredge patties in flour

3

Fry patties

15

Keep warm

Serve