For the salad

2 cups

Red cabbage

shredded

4 cups

Romaine lettuce

sliced

1

Grapefruit

peeled and membrane removed

2 tsp

Sesame seeds

roasted white

For the dressing

1 tbsp

Soy sauce

gluten-free if desired

1 tsp

Sesame seeds

roasted white
Rainbow Red Cabbage Salad
This Rainbow Red Cabbage Salad is a great addition to your winter salad recipe collection. The main ingredients for this salad are red cabbage, romaine lettuce and carrot. My tip when you are preparing the cabbage is to discard the outer layer of leaves and stems as they are very tough – the inner leaves are much tastier.
To make this, first make a zingy Asian style dressing by whisking lime juice, tahini, water, olive oil, minced ginger, soy sauce, salt, coconut sugar and white sesame seeds. Assemble the salad in a large salad bowl and arrange the avocado slices on top. Drizzle over the dressing and enjoy. So delicious!
To make my Rainbow Red Cabbage Salad, you will need the following ingredients: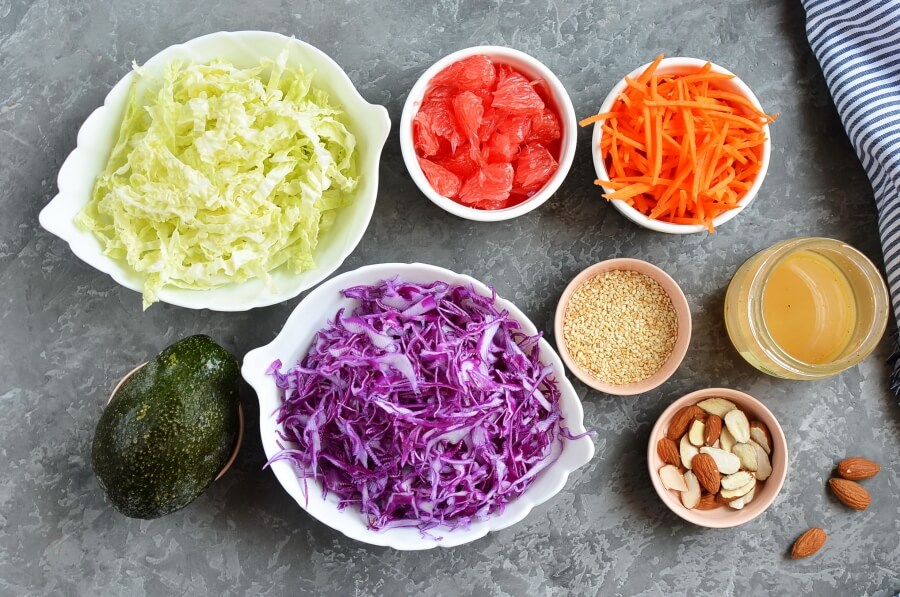 So, how do you make Rainbow Red Cabbage Salad?
Steps to make Rainbow Red Cabbage Salad
| | |
| --- | --- |
| 1 | Make the dressing |
| 3 | Assemble the slaw |
| 3 | Place avocado on top |
| 3 | Dress the salad |
| | Serve |