6 cups

Red cabbage

½ medium , finely chopped

½ cup

Sauerkraut

well drained

1

Granny Smith apples

sliced into thin bite-sized pieces

1 tbsp

Fresh dill

finely chopped

4 tbsp

Olive oil

extra virgin

1 tbsp

White vinegar

or to taste

½ tsp

Sea salt

or to taste
Red Cabbage Salad with Apple
This Red Cabbage Salad with Apple is a fantastic winter side salad. I love red cabbage and try to sneak it into loads of my dishes at this time of year. Did you know that red cabbage is very high in vitamin C and vitamin K so it will bring lots of nutrition to your table this winter.
To make this, start by chopping red cabbage and placing it in a large salad bowl. Mix in sauerkraut, cucumber, chopped dill and apple. Finally dress the salad using an olive oil and vinegar dressing. There you have it – a delicious side salad in under 20 minutes!
To make my Red Cabbage Salad with Apple, you will need the following ingredients: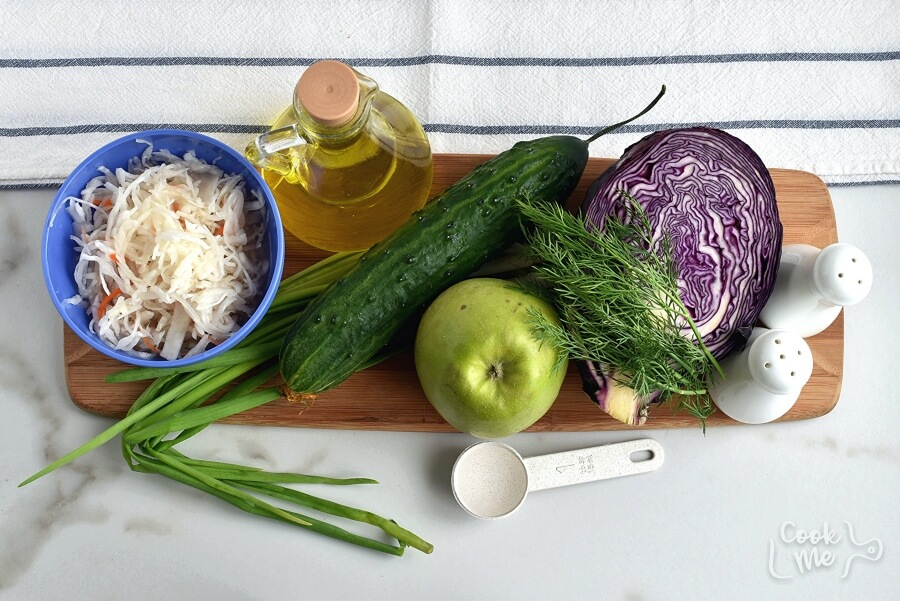 So, how do you make Red Cabbage Salad with Apple?
Steps to make Red Cabbage Salad with Apple
Chop the cabbage

3

Squeeze excess moisture from sauerkraut

2

Add cucumber, apple, dill and green onion

2

Dress the salad

3

Serve