450g

Potatoes

white, peeled and cut into 2cm cubes

2 small

Apples

Cox's apples, cored and cut into wedges

4 Herby

Pork sausages

cut into chunks

3 sprigs

Fresh thyme

leaves picked
Sausage, Mustard & Apple Hash
I often make this Sausage, Mustard & Apple Hash when I need a quick midweek meal or if I have some leftover boiled potatoes hanging around. Hash originated as a way of using up leftovers. The word comes from the French verb hacher which means to chop. Basically, the idea is that you chop up all your leftovers into similar sized chunks and fry them.
I like to use the classic combination of sausage, mustard, apple and potato for this hash. In the recipe, I describe how to cook the potatoes, but you can use leftovers if you have them. Start by caramelizing apples. Then cook the potato and the sausage in the same skillet. Once these are cooked, mix in the mustard and apple and you are ready to serve.
To make Sausage, Mustard & Apple Hash, you will need the following ingredients: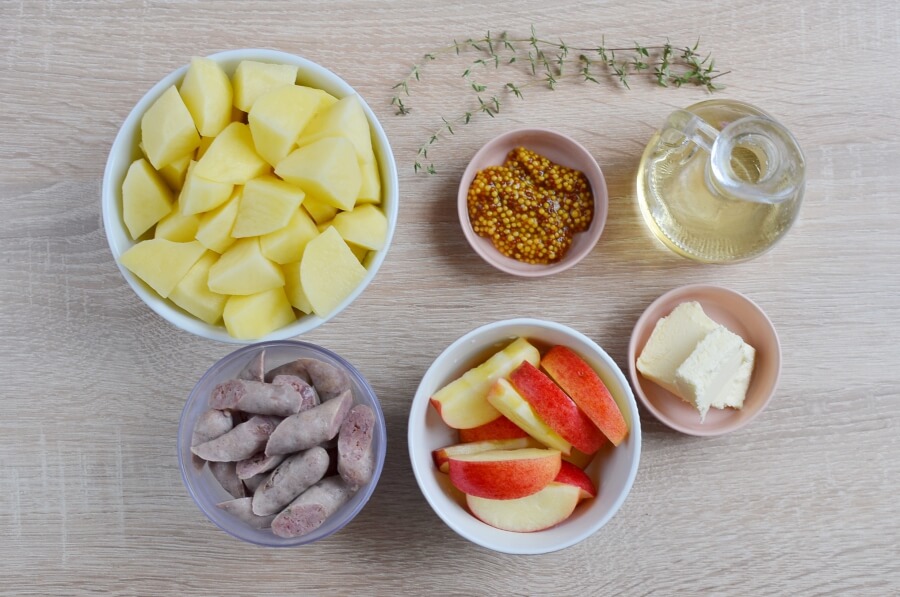 So, how to make Sausage, Mustard & Apple Hash?
Steps to make Sausage, Mustard & Apple Hash
Cook potatoes

5

Melt butter in a skillet

2

Caramelize apples

5

Cook the potatoes and sausages

15

Add apples and mustard

1

Serve