8 oz

Beef

round, trimmed, cut into ¾-inch cubes

1

Shallots

large, halved and thinly sliced

¼ tsp

Black pepper

freshly ground

1 cup

Beef broth

reduced-sodium

2 ½ cups

Butternut squash

cubed peeled
Sweet & Savory Beef Stew
This Sweet & Savory Beef Stew is so delicious. It is a wonderful stew which will warm you on even the coldest day. The sauce is naturally sweetened from the addition of dried cherries and the butternut squash. I think this sweetness complements the tenderness of the beef beautifully.
It's really easy to make too, although it has a long cooking time to ensure the most tender beef pieces. I start by browning the beef. Then I fry the shallots and add herbs and seasonings. I pour in the broth and scrape any brown bits from the bottom – you want these for the flavor! I stir in the butternut squash and place the stew in the oven for an hour. Stir in the cherries and cook for another 30 minutes before serving with rice, pasta or potatoes. Yum!
To make Sweet & Savory Beef Stew, you will need the following ingredients: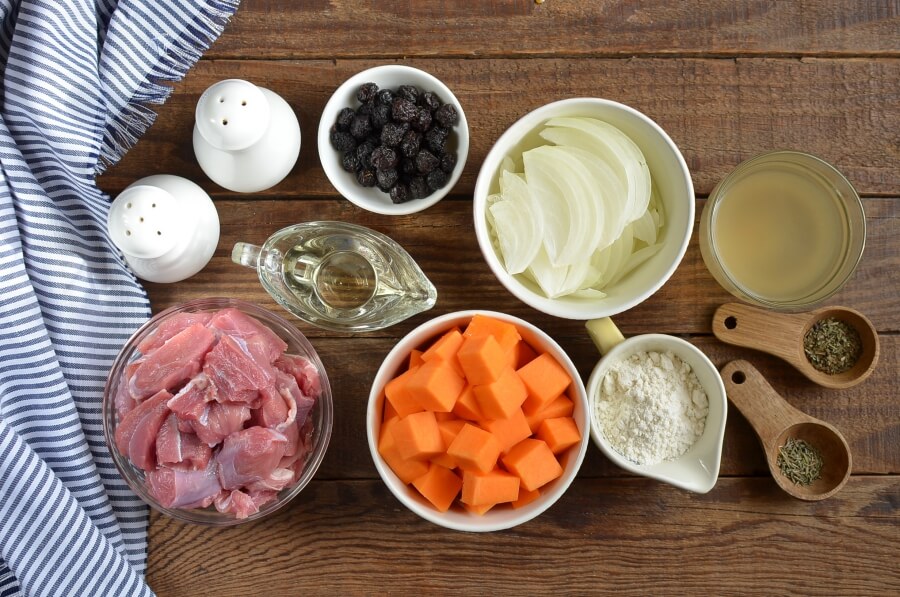 So, how do you make Sweet & Savory Beef Stew?
Steps to make Sweet & Savory Beef Stew
Heat the oven

10

Preheat the oven to 350°F.

Brown the beef

15

Cook the shallot

1

Add the seasonings

1

Return the beef and add flour

1

Cook

3

Add broth

2

Add the squash

1

Bake for 1 hour

1h

Add cherries and finish baking

30

Serve