1 ½ tbsp

Active dry yeast

1 tbsp + ½ cup

Sugar

white

½ cup

Vegan butter

softened, or vegetable oil

10 tbsp

Aquafaba

+ up to 10 tbsp for wash

7 ½ to 8 ½ cups

All-purpose flour

For sprinkling:

For serve:
Vegan Challah Bread
Vegan Challah Bread is a water challah recipe made without eggs and dairy but still deliciously soft and fluffy. And if you have a reason to avoid dairy and eggs, these amazingly baked loaves are sure to please. This recipe is completely vegan and uses white sugar instead of traditional honey. Challah is a Jewish holiday and Shabbat staple, and it is meant to be shared with family and friends. It is traditionally braided and sprinkled with sesame seeds for a beautiful presentation. This challah bread is delicious any way you serve it and makes great French toast too. 
This bread recipe calls for 2 times rising, but the result is worth it. The second rise allows yeast more time to work and helps develop a light texture and chewy crumb. So, make the recipe when you have the time to indulge in the meditative qualities of kneading, rising, shaping, and baking your own bread. This recipe yields 2 loaves. Be sure to follow the instructions below to make a three or six-strand challah. Enjoy!    
To make the Vegan Challah Bread, you will need the following ingredients: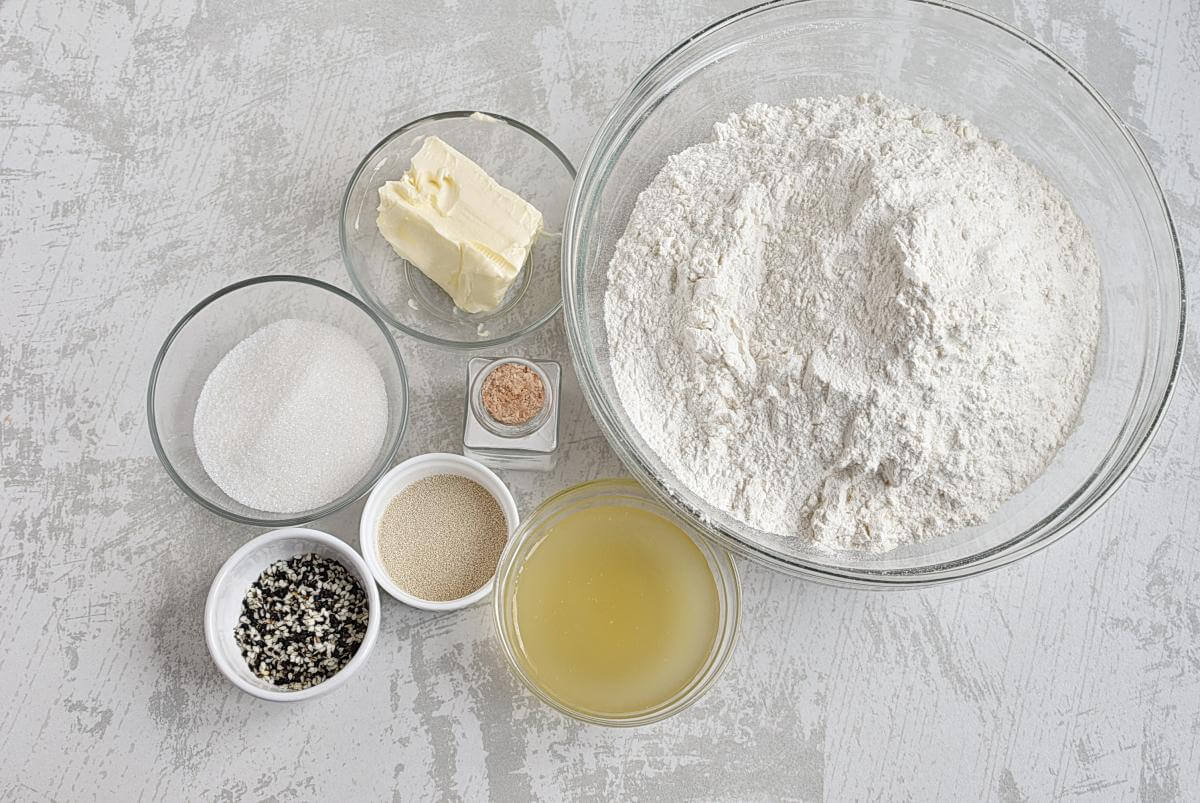 Steps to make Vegan Challah Bread
Dissolve yeast

10

Add wet ingredients

2

Add sugar and salt

1

Add flour

3

Knead

10

Rise

1h

Second rise

30

Divide dough

1

To make 6-strand challah

2

Braid dough

3

On a lightly floured surface, place the 6 strands in a row, squeeze them together at the very top. Take the far right strand and cross it to the left over all the remaining strands. Take the strand that was the furthest left and cross it to the right over the remaining 4 strands. Rearrange the strands slightly to make room between the two middle strands. Now fold the far left strand into the middle. Take the second from the right strand and move it over the remaining strands to the far left, then move the far right strand over two to the middle. Next, take the second from the left strand and move it over the remaining strands to the far right. And fold the far left strand into the middle. Carry on going until you have braided the whole loaf then pinch the ends together and tuck underneath.

Transfer to baking sheet

1

To make 3-strand challah

2

Braid dough

3

On a lightly floured surface, place the 3 strands in a row, pinch them together at the very top. Tuck the pinched ends under to help hold them together. Take the left strand and cross it over the middle strand. Now, take the right strand and cross it over the middle strand. Repeat crossing left over center, followed by right over center until you reach the end. Pinch and tuck the ends under the loaf.

Transfer to baking sheet and let rise

1h

Preheat oven

5

15 minutes before the rising is complete, preheat the oven to 375 °F.

Bake

30

Cool

Serve