1 tbsp fresh

Ginger

peeled and minced

1 cup

Cauliflower florets

2 cups

Kale

de-stemmed and torn in pieces

1 cup

Purple cabbage

chopped

1 (14.5 oz) can of no salt

Tomatoes

diced

1 tsp

Dried Italian seasoning

1/2 tsp

Turmeric

optional or to taste

Sea salt

or pink Himalayan salt , to taste

Black pepper

fresh ground, to taste

1 handful fresh

Parsley

chopped
Vegetable Detox Soup
My family is not always the healthiest bunch however, this Vegetable Detox Soup somehow, always wins the race! A colorful variety of different vegetables boiled just enough until soft and easy to chew.
I season with fresh ginger and turmeric and I think that's the taste that my children just love. It's not always easy for me to take a detox with a house full of yummy treats that I make for my family, yet this recipe really gets us together to encourage healthy eating!
To make Vegetable Detox Soup, you will need the following ingredients: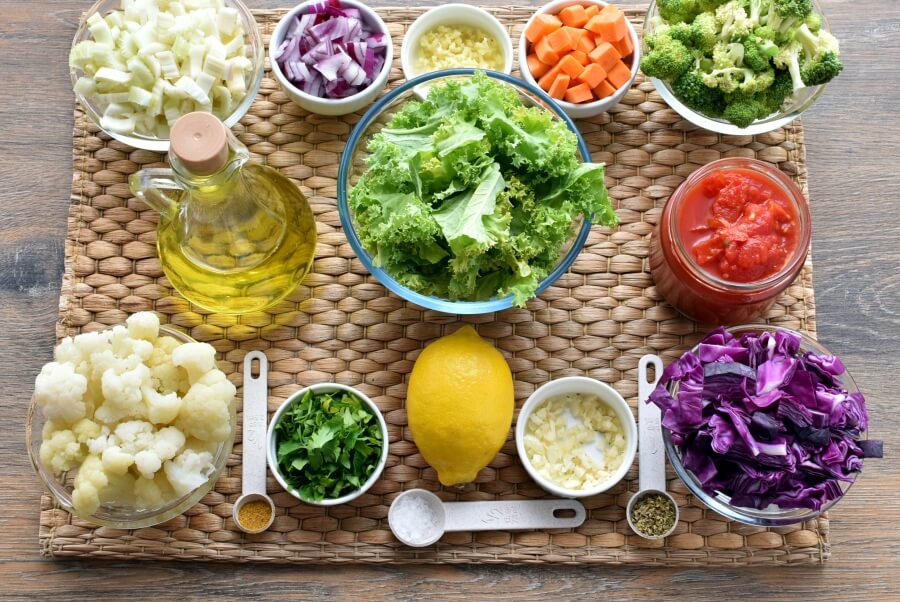 So, how to make Vegetable Detox Soup?
Steps to make Vegetable Detox Soup
Heat oil

5

Cook onions, garlic, ginger

2

Add vegetables

2

Add flavor

1

Boil

10

Add seasoning

3

Serve

2