2

Potatoes

peeled, boiled and mashed

1/2 cup

Heavy cream

for whipping
White Potato Pie
This White Potato Pie is like sweet potato pie's little cousin – it is a real crowd pleaser. From young to old, all members of my family love it. It's a really versatile dish which can be served as a Thanksgiving side dish or it makes a filling mid-week after school snack or dessert.
This pie combines the humble potato with butter, sugar, eggs and cream and uses a secret ingredient: the zest and juice of a lemon to give it a citrusy zing. The potatoes are peeled, boiled and mashed in advance, so it can be a very useful way to use up leftovers.
This is a perfect recipe to make at the beginning of a busy week as it is super easy and the ingredients are enough for two pies. These pies will keep for a couple of days in the refrigerator, ready to be used as a tasty and nutritious snack for even the most fussy eater!
For the pie crust I use this French Pastry Pie Crust Recipe.
To make White Potato Pie, you will need the following ingredients: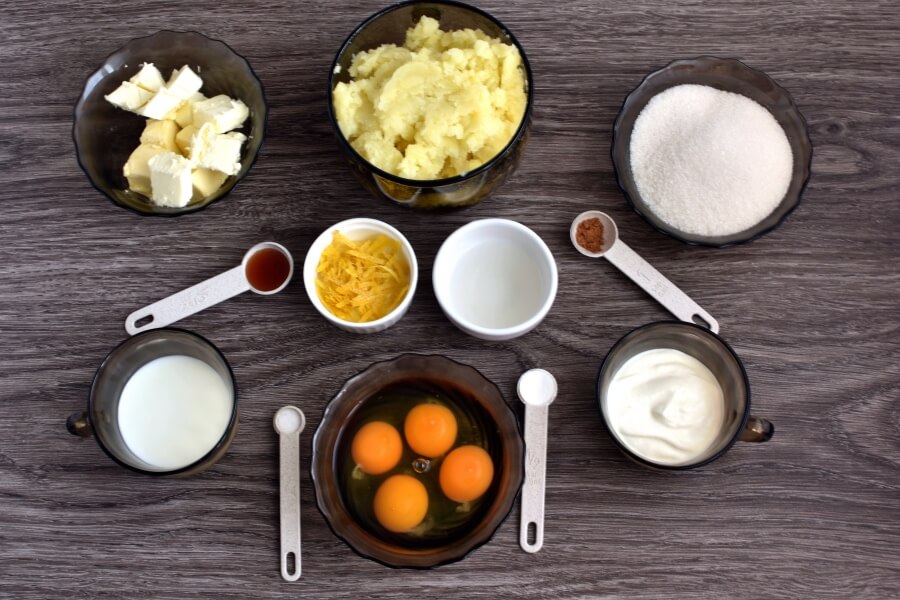 So, how to make White Potato Pie?
Steps to make White Potato Pie
Heat the oven

5

Preheat the oven to 350 °F.

Combine the sugar, baking powder, and salt

1

Add potatoes and butter

2

Stir in the cream and milk

2

Mix in the lemon rind, juice, vanilla, and nutmeg

1

Add the eggs

2

Add the mix to the pie shells

2

Bake and leave to cool

1h