2 cups

Celery

finely chopped

1 cup

Yellow split peas

split

1 cup

Green split peas

split

8 cups

Vegetable bouillon

or chicken broth, fat-free

1 1/2 tsp

Seasoning

salt-free
Best Ever Split Pea
This is a recipe for the Best Ever Split Pea ever! Since I was a child, split pea soup has been my favorite winter warmer – the ultimate comfort food! Of course, when I was a kid, my mom used to add ham to her soup.
Now that I am vegetarian, I omit the ham and use vegetable broth which means this version of Best Ever Split Pea is vegan as a result. And I think it tastes better than mom's (but sshh, don't tell her that!). This recipe has a long cooking time, but it is really easy to prepare. Simply cook split peas in broth with some fried carrots, onions, celery and garlic and in a few hours, you'll have the most delicious and nutritious split pea. You'll be surprised how good it tastes!
To make the Best Ever Split Pea, you will need the following ingredients: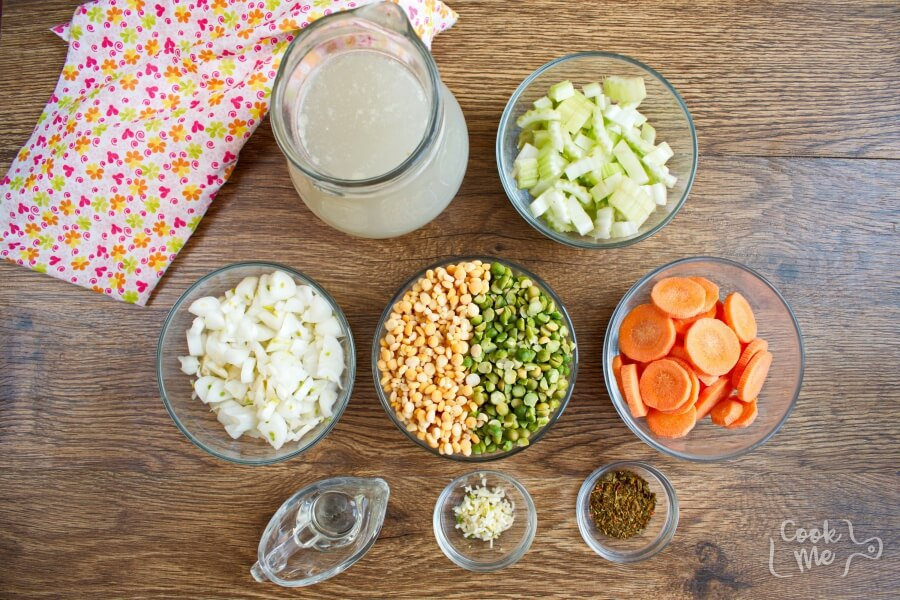 So, how do you make the Best Ever Split Pea?
Steps to make Best Ever Split Pea
Heat olive oil in a pot

2

Fry onion, carrot, celery and garlic

5

Add peas, broth, seasoning and salt

1

Bring to the boil

2h

Serve