4 (around 20oz total)

Chicken Breast

15oz can crushed or pureed

Tomatoes

1 tbsp dried

Oregano

or Italian seasoning

1/8 tsp

Red pepper flakes

1 tbsp fresh

Parsley

chopped
Easy Low-Carb Mozzarella Chicken
With this Easy Low-Carb Mozzarella Chicken, I'm combining a healthy homemade tomato sauce with oozing mozzarella and super juicy chicken in a fully low-carb recipe. My family got so used to breaded chicken but with this version you don't miss it at all, the mozzarella is a yummy distraction! It's well worth the extra effort to make the tomato sauce yourself, it's full of flavor and keeps the chicken soft and succulent.
This is a great option for Keto diet followers but also works for anyone wanting a low-carb meal. It's also pretty healthy, especially if you sub in low-fat mozzarella!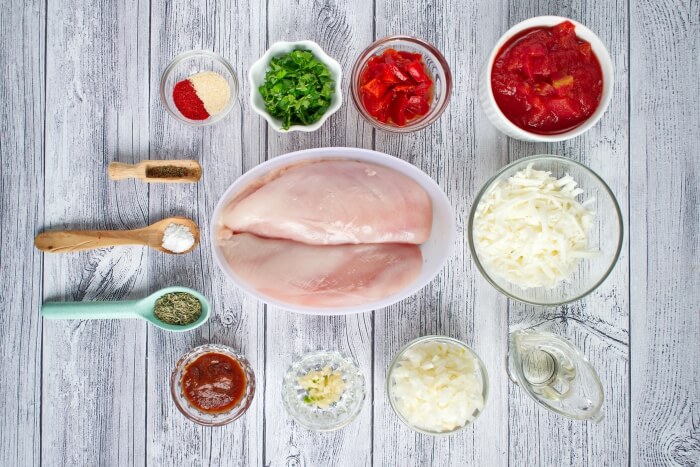 So, how to cook this Easy Low-Carb Mozzarella Chicken?
Steps to make Easy Low-Carb Mozzarella Chicken
Preheat oven

5

Turn the broiler on to a medium heat.

Prepare the chicken

1

Cook the chicken

20

Place a large skillet over a medium heat and add the oil. When the oil is hot, add the chicken and fry until brown and cooked all the way through, around 8 minutes on each side. Using a slotted spoon, remove the chicken from the skillet (you want the oil and juices to remain in the skillet) and transfer to a plate.

Cook the sauce

10

Using the same skillet, cook the onion for 3-4 minutes until translucent. Then add the garlic and fry for another minute. Scrape any brown bits from the bottom, before adding the crushed tomatoes, roasted capsicum, tomato paste, red pepper flakes (if including) and the rest of the oregano or Italian seasoning. Mix everything together and gradually bring the sauce to a low simmer. Cook for around 4 minutes until the sauce thickens, stirring a couple of times.

Broil the mozzarella

5

Serving Low-Carb Mozzarella Chicken