1 tsp

Worcestershire sauce
Eggless Firehouse Meatloaf
This is my ultimate Firehouse Meatloaf recipe, loaded with tonnes of ingredients and packed with flavor! You may have tried my Egg-Free BBQ Meatloaf recipe before, a super meaty version made with both beef and pork. Well here is my Canadian twist on the eggless meatloaf!
I've used brown bread soaked in warm water to give it a juicier texture, but the real difference here is in all the added ingredients which really create depth of flavor and taste.
Onions, scallions, and garlic, plus a whole array of delicious condiments – salsa, Worcestershire sauce, Dijon mustard, and BBQ sauce – take this meatloaf to a whole other level!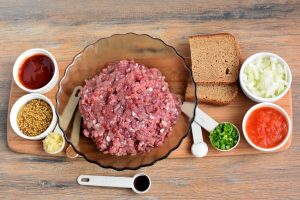 So, how to make Firehouse Meatloaf?
Steps to make Eggless Firehouse Meatloaf
Heat the oven and prepare a loaf tin

1

Prepare the bread slices

1

Combine the ingredients

1

Prepare the meatloaf for baking

1

Add the BBQ sauce

1

Continue baking

15

Serving Firehouse Meatloaf