For pita chips:

2

Pepitas

6-inch, sliced crosswise, torn into bite-size pieces

For dressing:

For salad:

1 heart

Romaine lettuce

halved lengthwise and cut crosswise ½-inch thick

1

Red onion

small, thinly sliced

2

Persian cucumbers

cut lengthwise into quarters, then crosswise ½-inch thick

1 cup

Cherry tomatoes

halved

1 cup

Cilantro

leaves with tender stems

1 cup

Parsley

leaves with tender stems

4 oz

Queso fresco cheese

crumbled

For serving:
Fattoush with Queso Fresco
Fattoush with Queso Fresco is a Middle Eastern-style bread salad. This summer salad recipe starts with crispy romaine lettuce, cool cucumbers, ripe cherry tomatoes, thinly sliced red onion, and freshly-picked herbs mixed with a secret ingredient. This secret ingredient is well-seasoned pita chips toasted in the oven to crisp perfection. A pro tip: don't be tempted to use store-bought pita chips. Take the time to make your own, because once you do, you will never want to buy the store stuff again. When plating, don't forget to top things off with crumbled queso fresco and a dash of sumac.
This delicious salad recipe is so flavorful and satisfying you will forget it all started with a lettuce. Enjoy!
To make the Fattoush with Queso Fresco, you will need the following ingredients: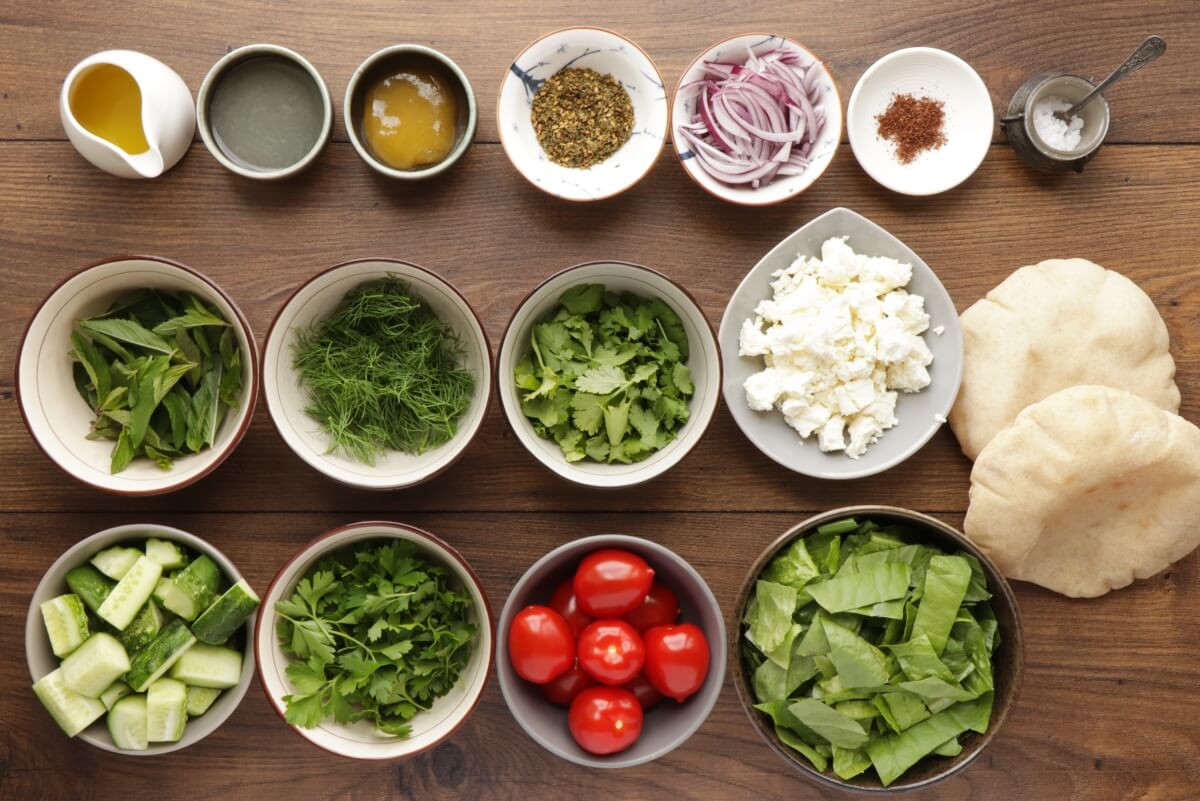 Steps to make Fattoush with Queso Fresco
Preheat oven

Preheat the oven to 350 °F.

Make seasoning for pita

1

Season pita

2

Toast pita

12

Make dressing

1

Add salad ingredients

2

Garnish

2

Serve