2 tbsp

Dijon mustard

whole-grain

2 tbsp

Fresh thyme

chopped fresh thyme or 2 tsp dried

2 tbsp

Olive oil

extra-virgin, divided

½ tsp

Black pepper

freshly ground, divided

1½ - 2 lb

Chicken thighs

bone-in , skin removed

2

Sweet potatoes

medium, peeled and cut into 1-inch pieces

1

Red onion

large, cut into 1-inch wedges
Low Carb Roast Chicken & Sweet Potatoes
There's nothing like Roast Chicken & Sweet Potatoes on a cold weekend day. I love this recipe – it is so versatile. No sweet potato at home? No problem – substitute with normal potato. Fancy extra veggies or a salad? No problem – pop them on the side! As I use chicken thighs in this recipe, it cooks really fast too meaning less time waiting around for dinner!
The best thing about this dish is that everything roasts in the oven together at the same time. Make a simple marinade from mustard, thyme, olive oil, salt and pepper for the chicken. Coat the sweet potatoes and onion with oil and season. Place the veggies on a warmed baking sheet and settle the chicken thighs on top. Roast 30-35 minutes and there you have it!
To make the Roast Chicken & Sweet Potatoes, you will need the following ingredients: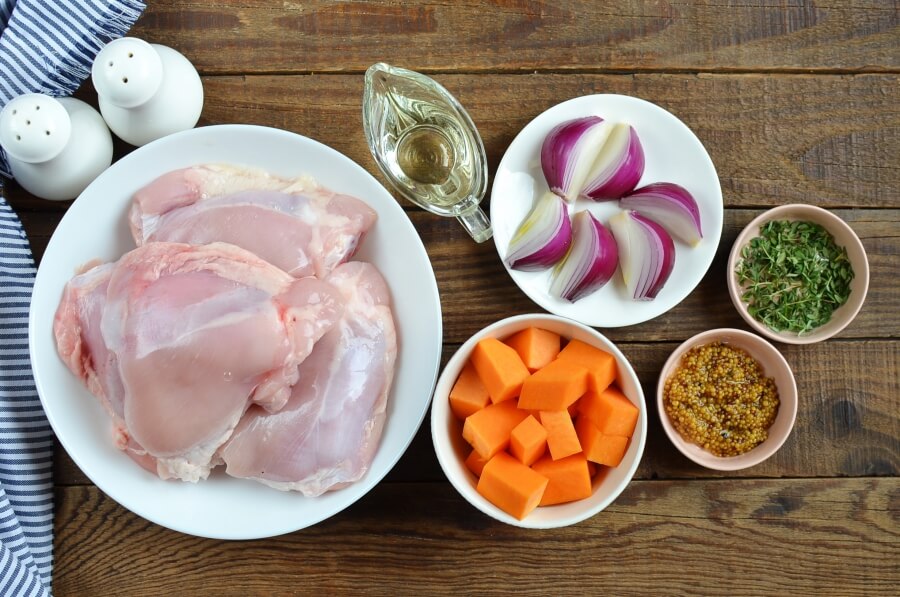 So, how do you make Roast Chicken & Sweet Potatoes?
Steps to make Low Carb Roast Chicken & Sweet Potatoes
Heat the oven and a large rimmed baking sheet

10

Preheat the oven to 450 °F. Place a large rimmed baking sheet in the lower third of the oven to heat.

Make a marinade

1

Coat the chicken

3

Coat the sweet potatoes and onion with oil

2

Place the veggies and chicken on the baking pan

2

Roast

35

Serve