For the pudding

1 cup

Almond milk

or other plant-based milk

For the topping

1 tsp toasted

Coconut flakes
Vegan Persimmon Chia Pudding
This Vegan Persimmon Chia Pudding is a filling and healthy breakfast which I like to prepare the evening before I wish to eat it. Chia pudding is a fantastic breakfast for vegans. Chia seeds are very rich in fibre which can help you to feel fuller for longer. They are so easy to prepare too – simply soak them for 2 hours or overnight in your favorite plant milk.
I use ripe yellowy-orange, tomato-shaped persimmons which have soft and sweet flesh. I blend the persimmon flesh into a smooth and light puree which I layer into small jars with the chia pudding. Just before eating, I top the puddings with granola and pomegranate seeds.
To make Vegan Persimmon Chia Pudding, you will need the following ingredients: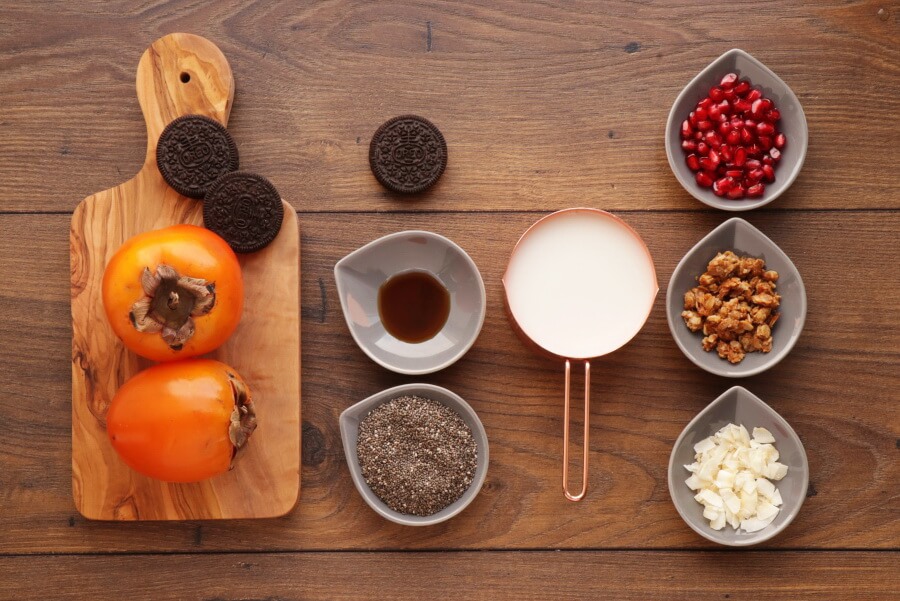 So, how do you make Vegan Persimmon Chia Pudding?
Steps to make Vegan Persimmon Chia Pudding
Prepare the chia pudding

2h

Blend the persimmon flesh

2

Assemble the puddings

2

Top

1

Serve