2 cups green

Grapes

pitted

1

Cucumber

peeled and chopped

1

Bell pepper

white, chopped

1 handful

Sprouts

for garnish
Vegan White Gazpacho
Vegan White Gazpacho is one of those classic summer recipes that I love to make on hot days. It is super fresh and full of delicious plant based ingredients like almonds, grapes, cucumber and bell pepper. I like to sprinkle a handful of sprouts  fresh mint or lemon balm on top of this just before I serve it too. 
This gazpacho will not be completely white unless you blanch the almonds first. To be honest, I only do that if I am trying to impress dinner or lunch guests. If I am making this for my family, I don't bother with the blanching step (but sshhh, don't tell them I said that!!!!)
To make my version of White Gazpacho, you will need the following ingredients: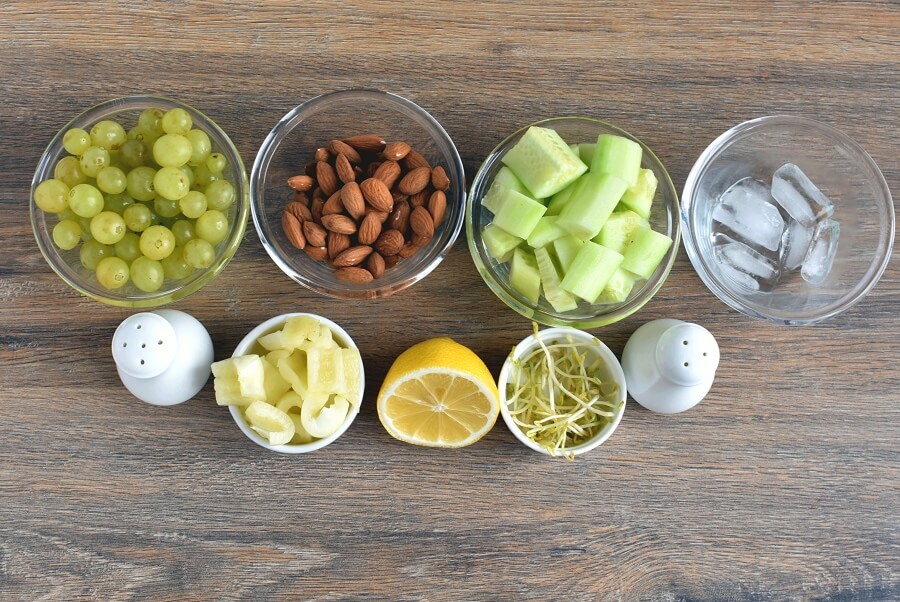 So, how do you make White Gazpacho?
Steps to make Vegan White Gazpacho
Blend almonds

2

Blend in the oil, grapes, cucumber, bell pepper and lemon

2

Add water, ice cubes and season to taste

1

Taste and adjust

1

Serve