Top 10 Homemade Bread Recipes
Bring the Aroma of Homemade Bread to Your Kitchen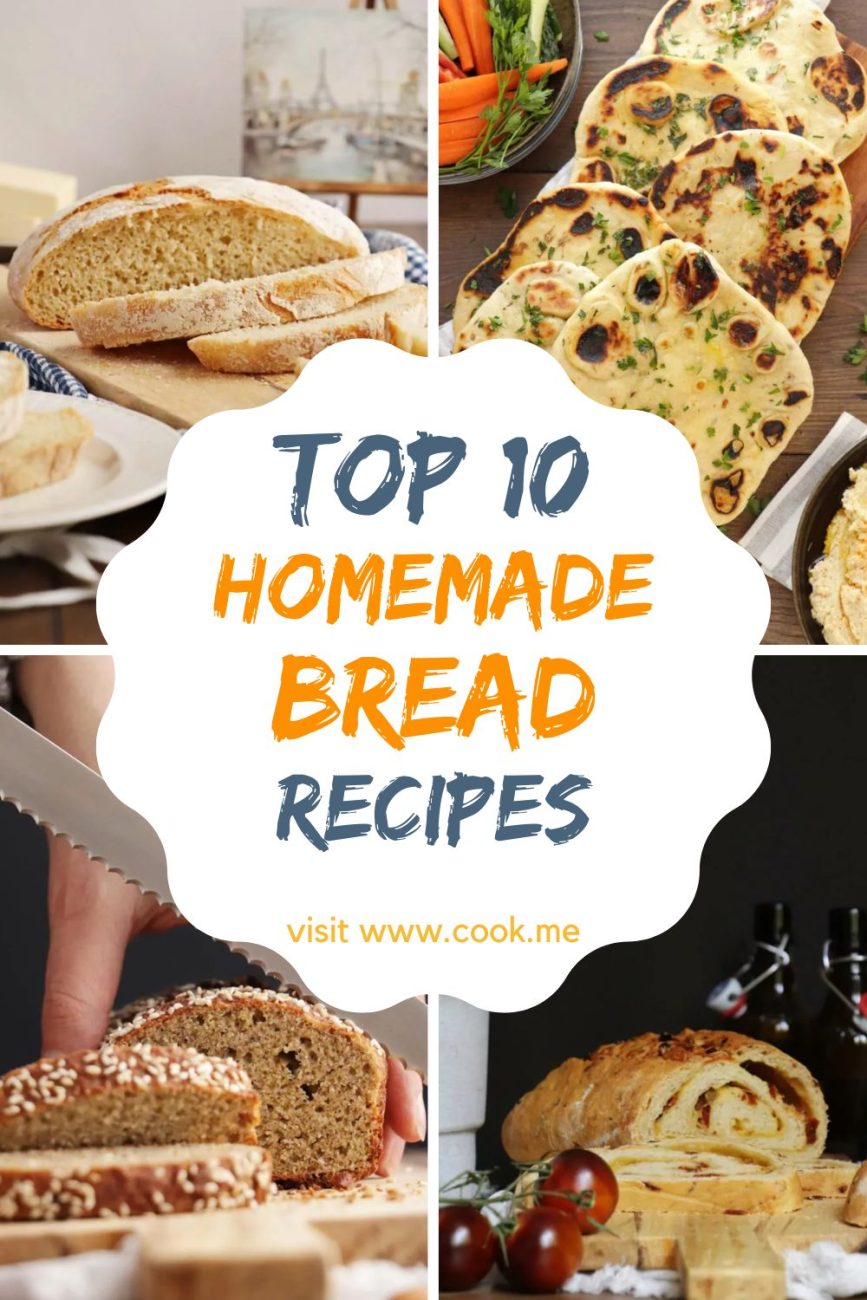 This easy Garlic Rosemary Bread recipe will fill your home with the comforting aroma of freshly baked bread. Just a few pantry staples and no kneading required. A preheated Dutch oven will do the rest. First, roast the entire head of garlic. It may seem like an extra step, but…
Ingredients for Garlic Rosemary Bread:
ROASTED GARLIC:
1 head Garlic
1 tsp Olive oil
Salt

BREAD:
2 ¼ tsp Active dry yeast
1 tsp Honey
1 ¼ cups Water
1 ½ tsp Kosher Salt
2 tbsp Rosemary
8–10 cloves Garlic
3 cups All-purpose flour
1 tbsp Olive oil
Ingredients for Beer Bread with Cheddar:
250 ml Original wheat beer
2 tsp Cane sugar
2 ¼ tsp Active dry yeast
30 g Butter
1 Onion
2 cloves Garlic
1 ¾ tsp Salt
360 g Bread flour
8 sprigs Fresh thyme
150 g Cheddar cheese
100 g Sun-dried tomatoes
Ingredients for Bread Machine Whole Wheat Bread:
3 ½ cups (450 g) Whole wheat flour
3 tbsp (35 g) Granulated sugar
1 ½ tsp Salt
1 cup plus 1 tbsp (255 g) Milk
½ cup (100 g) Half-and-half
3 tbsp (42 g) Butter
1 ½ tsp Instant yeast
This Easy Homemade French Bread is as simple as the title suggests! The only thing you need is patience to wait as the dough rises! There are few things that are as satisfying as baking your own bread – if you haven't tried it, now is your chance!  To make…
Ingredients for Easy Homemade French Bread:
2 ¼ cups Water
2 tbsp Sugar
1 tbsp Yeast
¾ tbsp Salt
2 tbsp Olive oil
5 ½ – 6 cups All-purpose flour
This simple Naan Bread recipe makes for amazingly chewy and bubbly naan, just like the one you get at Indian restaurants. Bonus? This naan dough is extremely easy to make at home, and I'm pretty sure you can't mess this recipe up. So what's the secret? Three things. One, go…
Ingredients for Naan Bread:
½ cup Water
1 tsp Honey
2 ¼ tsp Active dry yeast
2 ¼ cups All-purpose flour
1 tbsp Olive oil
¼ cup Greek yogurt
¼ cup Whole milk
½ tsp Salt
2 cloves Garlic
Anise seed 1 tsp
3 tbsp Ghee
Homemade Black Olive Bread – is a foolproof bread recipe that is easy to make and requires a few ingredients you may already have on hand. While I bake all year long, summer is one of my favorite times to bake because this is the time when my house is…
Ingredients for Homemade Black Olive Bread:
¾ cup Water
1 tsp Active dry yeast
2 ½ cups plus 2 tbsp All-purpose flour
¾ tsp Salt
1 ½ tbsp Olive oil
¾ cup Black olives
This Keto Bread (No Yeast) may be the best low-carb bread recipe yet! This recipe is so simple to make you will need only two bowls and a loaf pan. It doesn't require yeast, or to whip egg whites, has no eggy taste, and doesn't appear wet. It is crazy…
Ingredients for Keto Bread (No Yeast):
2 ¼ cups Almond flour
¼ cup Ground flaxseed
½ tsp Baking soda
½ tsp Salt
5 Large eggs
1 tbsp Maple syrup
1 tbsp Apple cider vinegar
1 tbsp Olive oil
2 tbsp Sesame seeds
This Tear & Share Feta Herb Bread is a delicious cheese bread, studded with chunks of feta cheese and fresh herbs. This bread is a really versatile recipe which is a great addition to your Thanksgiving or Christmas table. It is equally good to serve at a picnic or outdoor…
Ingredients for Tear & Share Feta Herb Bread:
500 g Bread flour
7-g sachet Yeast
2 tsp Sea salt
1 tsp Caster sugar
4 tbsp Olive oil
275-300 ml Water
100 g Feta cheese
30 g Parmesan cheese
Large handful Parsley
Handful Chives
1 Eggs
Bold statement: This Keto Garlic Bread is the best low-carb bread recipe that you will ever need! Missing out on bread is for sure one of the harder components of the keto diet, but this keto bread is sure to satisfy your bread cravings without a side of guilt. Besides,…
Ingredients for Keto Garlic Bread:
1 cup Mozzarella
½ cup Almond flour
2 tbsp Cream Cheese
1 tbsp Garlic powder
1 tsp Baking powder
Kosher Salt
1 Large eggs
1 tbsp Butter
1 clove Garlic
1 tbsp Parsley
1 tbsp Parmesan cheese

FOR SERVING:
Marinara sauce
This Herby Gooseberry Focaccia is inspired by my travels in both Italy and England. Focaccia, of course, is a classic Italian bread, and tart gooseberries are traditionally grown in English cottage gardens. This recipe is a marriage made in heaven, in my opinion. Start by making a classic focaccia dough….
Ingredients for Herby Gooseberry Focaccia:
500 g Bread flour
1 tbsp Sea salt
7 g Active dry yeast
1 tsp Sugar
350 ml Water
6 tbsp Olive oil
2 sprigs Rosemary
2 sprigs Sage
½ bulb Garlic
175 g Gooseberries

TO SERVE (OPTIONAL):
Cheese