2 tbsp

Apple cider vinegar

2 tbsp

Sweet onions

finely chopped

2 tsp

Coarse-grain mustard

1/4 tsp

Black pepper

ground

4

Eggs

hard-cooked, peeled

1 1/2 cups

Cherry tomatoes

halved

4 slices

Bacon

cooked and chopped
BLT Salad with Sweet Onion Vinaigrette
One of my all-time favorite sandwiches is the humble BLT. In my opinion, it is hard to beat the combination of salty bacon, fresh tomato, spinach and a smear of mayonnaise. However, there are times when I don't feel like eating a lot of bread and that's when I opt for this BLT Salad with Sweet Onion Vinaigrette instead.
If I tell my kids that we're having salad for dinner, they'll groan and complain. But if I put those three magic letters in front of the word "salad", the kids will jump for joy! To make this salad, I simply combine the classic BLT ingredients on a sharing salad platter with a sweet dressing. I also add eggs which I prepare in two ways – grated and sliced. I bring the platter straight to the table and people can just help themselves. Try it for yourself – I know you'll love it!
To make my version of BLT Salad with Sweet Onion Vinaigrette, you will need the following ingredients: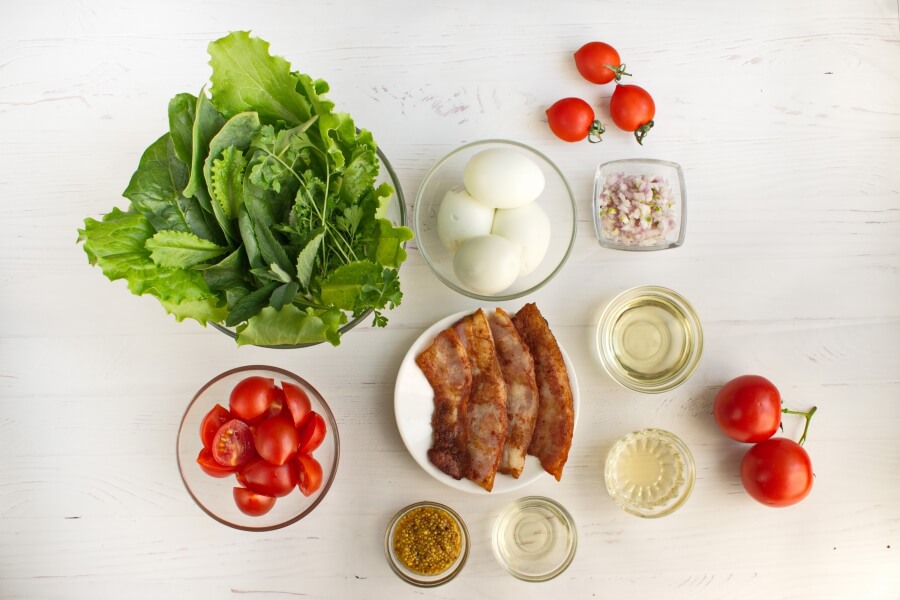 So, how do you make BLT Salad with Sweet Onion Vinaigrette?
Steps to make BLT Salad with Sweet Onion Vinaigrette
Make the dressing

1

Prepare the eggs

1

Assemble the salad.

2

Dress

1

Serve