For the salad:

8 cups

Romaine lettuce

chopped romaine and/or iceberg lettuce

6 oz

Turkey breasts

cooked, chopped

1

Cucumber

seeded and chopped

2

Eggs

hard-cooked, chopped

⅓ cup

Cheddar cheese

shredded reduced-fat sharp

For the dressing:

2 tbsp

White wine vinegar

1 tbsp

Dried Italian seasoning

snipped fresh basil, thyme, and/or oregano
Chopped Chef's Salad
I make a batch of this Chopped Chef's Salad each weekend to have for lunch during the week ahead. This has been my secret to healthy eating while being a working mom. We all know how hard it is to keep everything going when the kids are at school. Batch making my lunch at the weekend gives me one less thing to worry about during the week!
I layer the ingredients for this salad into four containers which I refrigerate. I prepare the dressing by shaking vinegar, olive oil, basil, mustard, and pepper into four small jars. Each morning I take a salad and dressing from the refrigerator. When I am ready to eat my lunch, I drizzle the dressing over the salad and tuck in.
To make my Chopped Chef's Salad, you will need the following ingredients: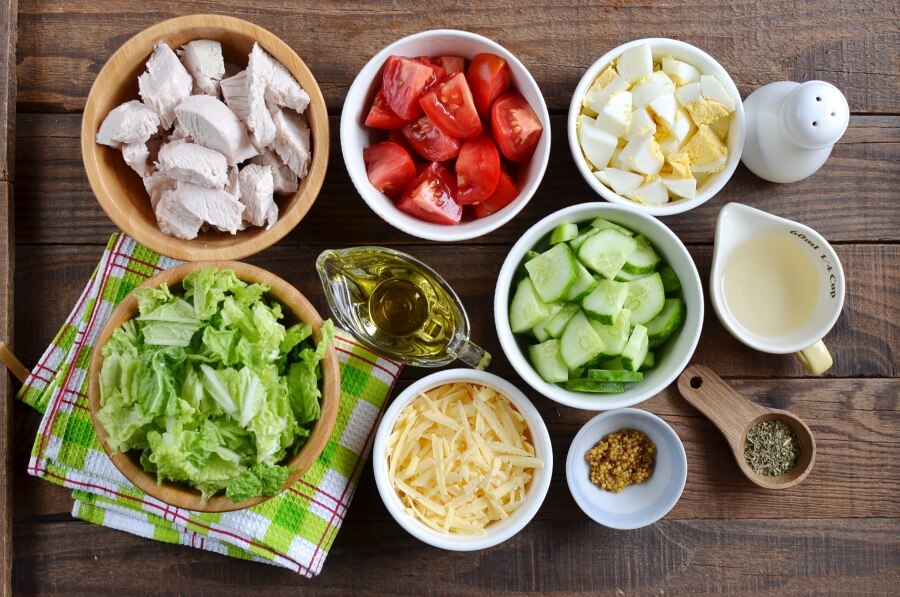 So, how do you make Chopped Chef's Salad?
Steps to make Chopped Chef's Salad
Assemble the salad

5

Prepare the dressing

5

Dress the salad

1

Serve