For the Loaf:

15 oz (425.24 g) can

Chickpeas

or 1.5 cups, cooked

15 oz (425.24 g) can

White beans

cannellini beans or other white beans or use more chickpeas or cooked lentils

4 cloves

Garlic

finely chopped

½ cup (50.5 g)

Celery

or use other veggies, finely chopped

¼ cup (37.25 g)

Red bell pepper

or carrots or both, chopped

2 tbsp

Cranberries

dried (optional)

2 tbsp

Cilantro

fresh , chopped

2 tbsp

Parsley

fresh , chopped

2-4 tbsp

Soy free barbecue sauce

1 tbsp

Chia seeds

or 1.5 tbsp flax seed meal

¼-½ tsp

Cayenne pepper

or chipotle pepper powder

1 tsp

Dried thyme

or rosemary or 2 tsp fresh

½ tsp (0.5 tsp)

Dried sage

½ - ¾ tsp

Salt

or to taste

½ cup (54 g)

Breadcrumbs

or more or a mix of ½ oats and ½ breadcrumbs

For the Glaze:

a generous dash

Black pepper

of freshly ground

¼ tsp (0.25 tsp)

Smoked Paprika
Chickpea Veggie Loaf
This hearty Chickpea Veggie Loaf is a vegan style meatloaf made with chickpeas and cannellini beans or white beans. Chickpeas in this recipe are used as a substitute to meat with a rich source of protein and I have to say the taste is great too.
A perfect way to introduce vegetables to children and ideal for when you are entertaining vegetarians.
To make Chickpea Veggie Loaf, you will need the following ingredients: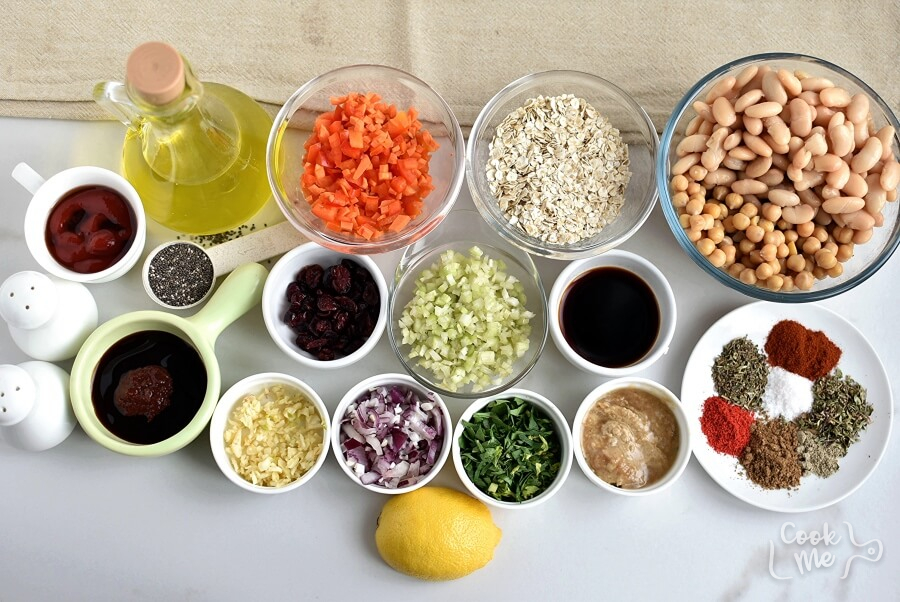 So, how to make Chickpea Veggie Loaf?
Steps to make Chickpea Veggie Loaf
5

Cook garlic and onions

3

Add other vegetables

2

Blend bean and chickpea mixture

Drain liquid from the chickpeas and beans really well and place in a food processor. Blend the chickpeas, beans, cilantro, parsley and half of the cooked veggie mixture prepared in step 2. Continue blending until the mixture is mashed with some coarse chunky. You can add a handful of greens in as well at this step, if you wish. Transfer to a mixing bowl.

1

Prepare soy free bbq sauce mix

2

Prepare loaf mixture

2

Add breadcrumbs

2

Prepare loaf

3

Prepare glaze

5

Preheat oven

45

Bake

15

Cool

Serve