5

Garlic scapes

chopped 2-inch pieces

3 sprigs

Fresh dill

snipped
Lacto-Fermented Pickles with Garlic Scapes
This Lacto-Fermented Pickles with Garlic Scapes recipe is a great one to try when you're starting out with lacto-fermentation. Lacto-fermentation is a method by which vegetables are preserved through the process of fermentation using beneficial bacteria. This method is much less time-consuming than traditional canning methods. You don't even have to sterilize the jar and lid – just make sure that you've run them through the dishwasher first.
Lacto-fermentation was a very popular way to preserve food in the past. When we lost touch with the technique, we also lost touch with the multiple health benefits it brought. The pickles that result from this recipe taste absolutely delicious and they are full of beneficial bacteria and enzymes too. So if you are looking to improve your gut health, this recipe is a winner!
To make my version of Lacto-Fermented Pickles with Garlic Scapes, you will need the following ingredients: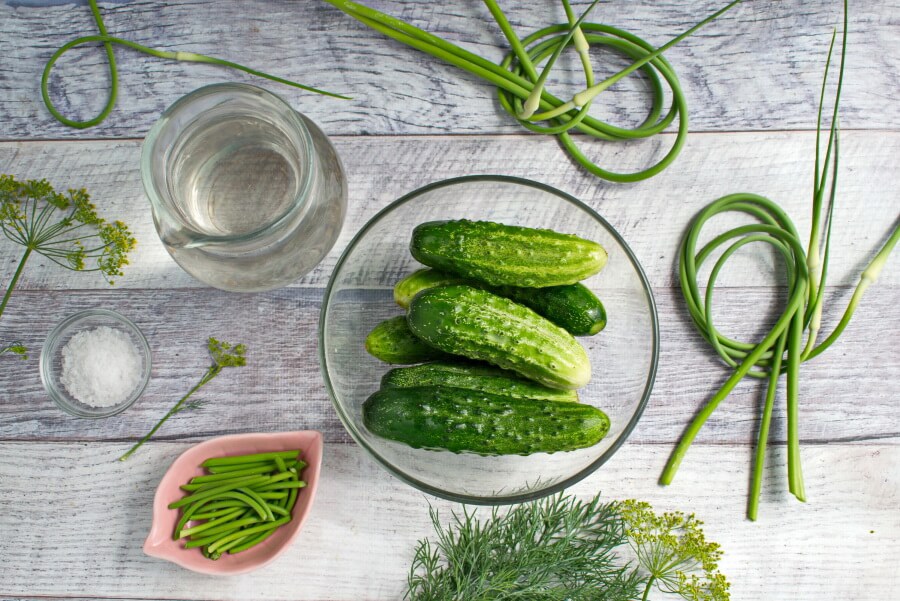 So, how do you make Lacto-Fermented Pickles with Garlic Scapes?
Steps to make Lacto-Fermented Pickles with Garlic Scapes
Prepare the cucumbers

2

Place the veggies in a jar

2

Add salted water

1

Top up with water

1

Store

3d

Open

Serve