1

Carrots

medium size , diced

3 cloves

Garlic

peeled and thinly sliced

¼ small root

Celery

peeled and diced

4 cups

Vegetable stock

homemade

¼ cup

Basil

fresh , chopped

dry

Spearmint leaves

to taste

Black pepper

freshly- ground , to taste
Vegan Lentil Cream Soup
This Vegan Lentil Cream Soup is a hearty plant-based soup which tastes delicious and is full of nutritious ingredients! I use red lentils in this soup as they boil down to a really creamy thick puree. Did you know that not only are lentils easy to cook, but they are packed full of protein, iron, fibre and vitamins. It's no wonder I try to incorporate them in as many weekday meals as I can.
This soup can be made in a one pot and will feed the whole family. Simply add the ingredients in stages and cook the vegetables before adding the lentils and stock. Once the lentils have softened, blend the soup and serve with delicious fresh bread on the side.
To make this Vegan Lentil Cream Soup, you will need the following ingredients: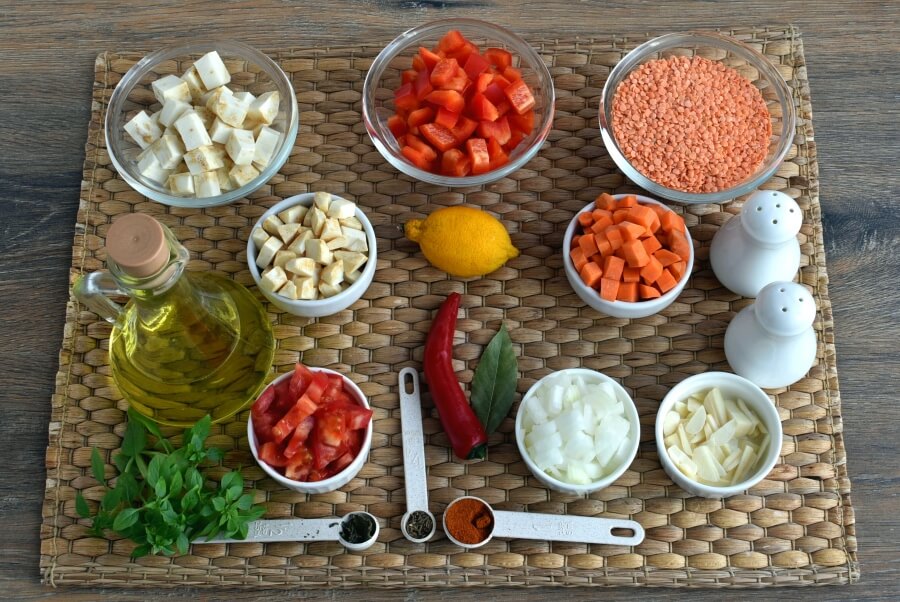 So, how do you make Vegan Lentil Cream Soup?
Steps to make Vegan Lentil Cream Soup
Heat the oil

2

Fry the vegetables

5

Add tomatoes, lentils and seasoning

2

Add stock and bring to a boil

3

Add remaining ingredients and simmer

25

Blend the soup

3

Serve