2 cups

Cucumber

sliced and halved

1 cup

Cherry tomatoes

halved

1 cup black

Olives

or kalamata olives

¼ cup

Feta cheese

to garnish

For Herbed Lemon Vinaigrette

1 tbsp

Natural Honey

or date syrup

1-3 tsp

Garlic

minced, to taste
Summer Greek Quinoa Salad
You are going to love this Summer Greek Quinoa Salad. Whether you're looking for that cool, summer, detox salad or just want to feel like you are actually in Greece, then you have to try this awesome salad. Another vibrant colorful salad consisting of quinoa, arugula, sweet nectarines, cucumber, tomatoes and black olives, flavored with mint and basil and garnished with crunchy walnuts and crumbly feta cheese.
Now, I have also included the recipe for the perfect herbed lemon vinaigrette that compliments this salad so well, however, it's that good, you can use it to dress any salad of your choice!
To make Summer Greek Quinoa Salad, you will need the following ingredients: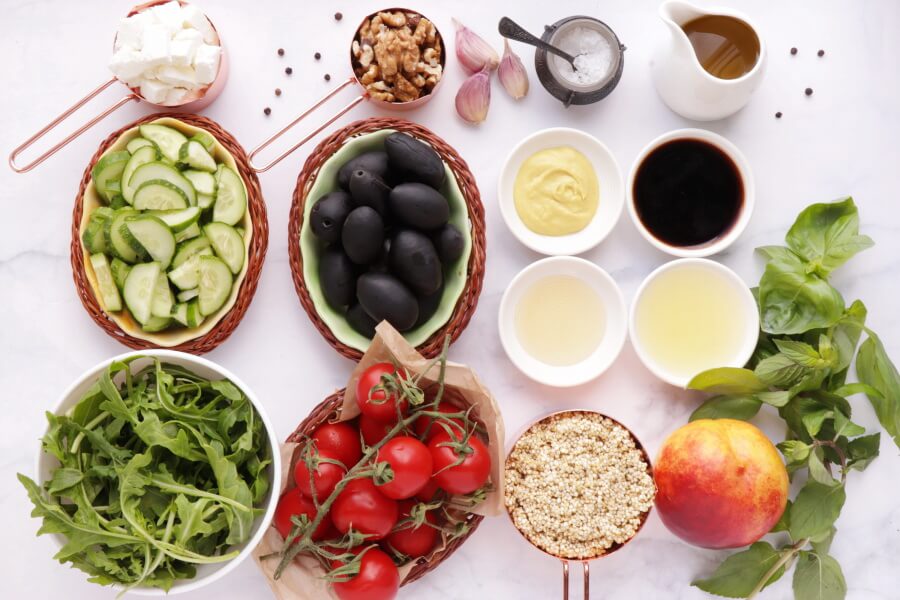 So, how to make Summer Greek Quinoa Salad?
Steps to make Summer Greek Quinoa Salad
Cook quinoa

17

Prepare dressing

5

Cool quinoa

5

Combine salad ingredients

2

Dress salad

1

If not serving immediately

If not serving immediately, prepare salad, omitting the arugula and garnishing. You can keep the rest of the quinoa salad in the refrigerator until you're ready to serve - just add the arugula and garnish with walnuts and feta cheese.

Serve immediately