2 tbsp

Apple cider vinegar

1/4 tsp

Black pepper

ground
Sweet and Sour Meatloaf
My tried-and-tested Sweet and Sour Meatloaf recipe is my favorite ever version of this American classic. I guess every family has a different way to make meatloaf.
My nanna cooked hers very plain, while my grandma could knock an army out with the amount of onion and garlic she added to hers! My mother-in-law makes a real juicy one with lots of tomato. My mom and I came up with this recipe together after trying so many variations over the years.
Meatloaf can be a heavy dish, so we upped the sugar and vinegar levels to add sweet and sour notes that work great against the beef. The onion, mustard and tomato add their own punchy flavors, making the whole thing super tasty and delicious!
To make Sweet and Sour Meatloaf, you will need the following ingredients: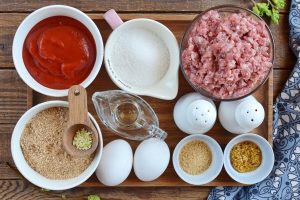 So, how to make Sweet and Sour Meatloaf?
Steps to make Sweet and Sour Meatloaf
Heat the oven

1

Combine the ingredients

5

Prepare the meatloaf for baking

3

Bake the meatloaf

40

Make the sauce

2

Add the sauce

20

Serve

5