TOP 10 Easy Keto Chicken Recipes
Comfort Food at Its Best.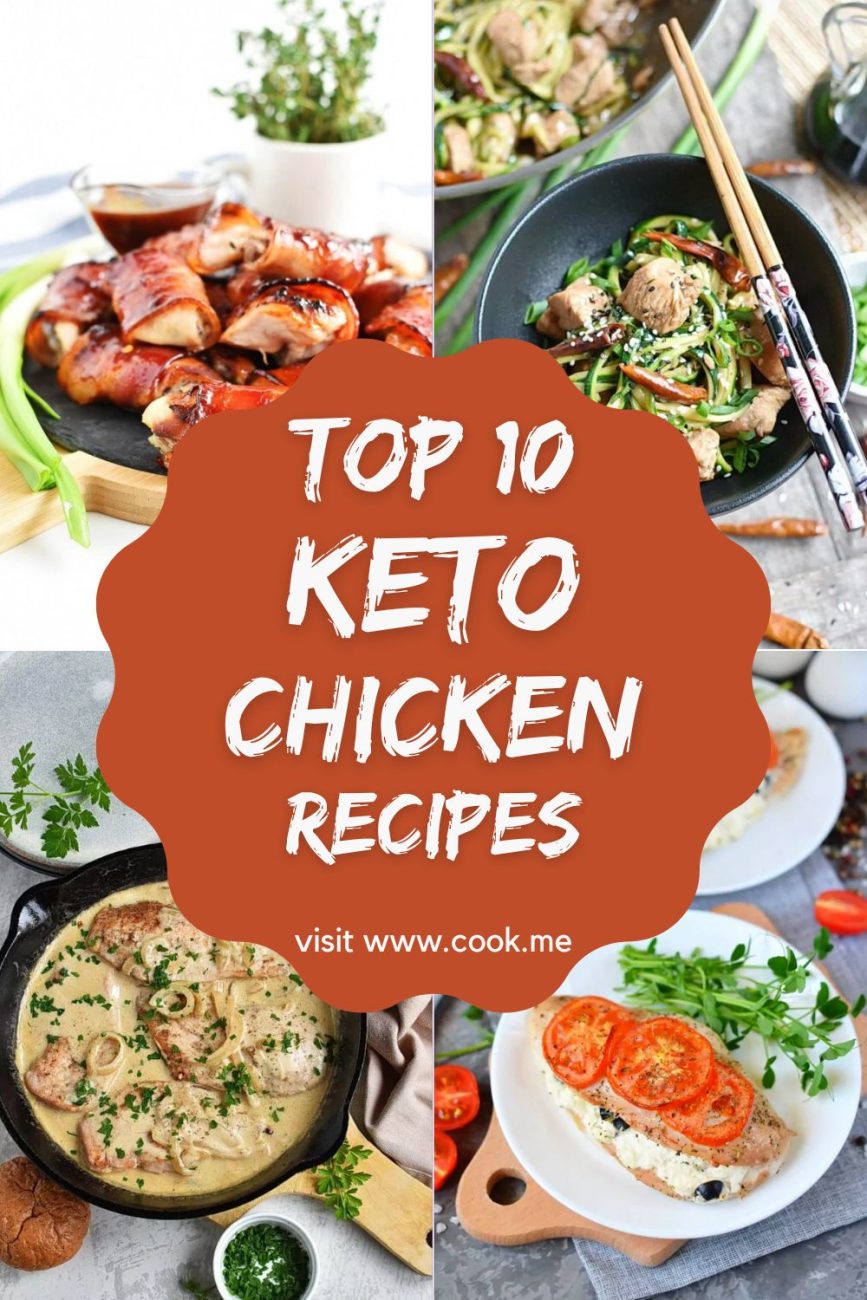 This Keto Sour Cream and Onion Chicken recipe is a new take on the classic dish that features tender and juicy chicken breasts and rich and creamy onion sauce. Seasoned with garlic powder, salt and fresh black pepper, the chicken breasts are seared until golden in a combo of olive oil and butter. The chicken is ….
Ingredients for Keto Sour Cream and Onion Chicken:
2 Chicken Breast
½ tsp Garlic powder
Salt
Black pepper
1 tbsp Olive oil
2 tbsp Butter
1 Onion
1 clove Garlic
½ cup Chicken broth
1 tsp Worcestershire sauce
1 cup Sour cream
Parsley
Ingredients for One Pot Kung Pao Chicken Zoodles:
1 Chicken Breast
Salt
Black pepper
¼ cup Soy sauce
2 tbsp Hoisin sauce
2 tbsp Rice vinegar
1 tsp Sesame oil
2 cloves Garlic
½ tsp Ginger
2 tbsp Cornstarch
2 tbsp Water
4 Red chili
5-6 Zucchini
Ingredients for Keto Chicken Margherita:
1 lb Chicken Breast
½ tsp Garlic powder
1 tsp Italian herb seasoning
⅔ tsp Salt
Black pepper
2 tbsp Olive oil
4 oz Fresh Mozzarella Ball
2 tbsp Pesto sauce
¼ cup Cherry tomatoes
2 tbsp Parmesan cheese
2 cups Spring mix salad greens
2 tbsp Basil
One of my favorite treats to get as take out is egg rolls, except they are not the healthiest option and that's why I love this Egg Roll in a Bowl recipe. Not only is this recipe full of flavor, it is gluten-free, dairy-free and keto-friendly too. Better yet, this…
Ingredients for Keto Egg Roll in a Bowl:
2 tbsp Olive oil
1 lb Ground turkey
1½ cups Sweet onions
1 cup Carrots
½ tsp Ginger
3 Garlic clove
¼ cup Chicken broth
5 cups Cabbage
2 tbsp gluten-free Soy sauce
2 tsp Apple cider vinegar
½ tsp Salt
¼ tsp Black pepper
1 tsp toasted Sesame oil
1 tbsp toasted Sesame seeds
1 tbsp Green onion
Everyone has a good stuffed chicken recipe but I really love this Keto Italian Stuffed Chicken recipe. With bold ingredients of chopped olives and/or sundried tomatoes combined with crushed garlic, mixed herbs and soft cheese that gives a smooth and creamy texture. Top with tomato slices for added flavor and color….
Ingredients for Italian Stuffed Chicken:
1 tbsp Olives
1 clove Garlic
½ tsp Dried herbs
100 g Cheese
2 Chicken Breast
2 Tomatoes
Olive oil
This Maple Bacon Wings is the best wing recipe on the market. Trust me. Mini chicken wings, wrapped in bacon strips and coated in a sweet barbecue, maple syrup, apple cider vinegar, brown sugar and crushed red pepper flakes sauce that just opens all your taste buds and flavor senses….
Ingredients for Maple Bacon Wings:
2 lb Chicken wings
15 slices Bacon
¼ cup Barbecue sauce
2 tbsp Maple syrup
1 tbsp Apple cider vinegar
1 tbsp Brown sugar
½ tsp Red pepper flakes
These Keto Chicken Parmesan Meatballs are the perfect recipe for me to use to feed my family in accordance with my most favored Keto regime. The meatballs are made from ground chicken combined with almond flour, egg, Parmesan, fresh basil and garlic powder that get baked in the oven for…
Ingredients for Keto Chicken Parmesan Meatballs:
FOR THE MEATBALLS:
1 lb Ground chicken
½ cup Almond flour
1 Eggs
⅓ cup Parmesan cheese
1 tbsp Basil
½ tsp Garlic powder

FOR THE SAUCE:
2 tsp Olive oil
3 cloves Garlic
1 28 oz Can crushed tomatoes
1 tbsp Basil
½ tsp Salt
These Crispy Baked Chicken Thighs are not only easy to make, they taste delicious! I've been using this recipe for years and I am so excited to share it with you now. You will never need another chicken thigh recipe once you have checked it out. It's so simple and…
Ingredients for Crispy Baked Chicken Thighs:
3 pounds Chicken thighs
2 tbsps Olive oil
2 tbsps Salt
2 tbsps Garlic powder
2 tbsps Onion powder
2 tbsps Dried Italian seasoning
1 tbsp Black pepper
1 tbsp Ground paprika
Ingredients for Piri-Piri Chicken:
1 Chicken
2 Hot chilli pepper
100 ml Red wine vinegar
6 red Chili pepper
6 cloves Garlic
2 tsp Smoked Paprika
1 tsp Dried oregano
1 tsp Dried thyme
1 tsp Caster sugar
2 Lemon
This Keto Instant Pot Cheddar Soup is low-carb comfort food at its best. It's easy and delicious, cozy yet healthy. This keto soup is everything we need right now. It's full of veggies and cheese and has a nice warming kick. Plus, this one-pot soup is so easy to throw…
Ingredients for Keto Instant Pot Cheddar Soup:
1 tbsp Olive oil
1 Yellow onions
2 cloves Garlic
1 head Cauliflower
1 Red bell pepper
1 tbsp Onion powder
Salt
Black pepper
1 (32 fl oz) container Chicken stock
2 cups Cheddar cheese
1 cup Half-and-half
6 slices Turkey bacon
1 tbsp Dijon mustard
4 dashes Hot pepper sauce