FOR THE SALAD

2

Chicken Breast

cooked, shredded or chopped

2

Avocado

pitted and diced

½ cup

Corn

roasted, canned, or frozen

2 tbsp

Cilantro

chopped finely

FOR THE DRESSING

2 tbsp

Lemon juice

or lime juice

Black pepper

ground, to taste
Healthy Avocado Chicken Salad
Is there a better combination of ingredients than this Healthy Avocado Chicken Salad? Chicken, avocado, corn, onion and cilantro come together with a citrus olive oil dressing to make a healthy and satisfying keto-friendly summer salad. My family loves this salad which I make as a weekend treat. The best part is that it couldn't be easier – this salad comes together in a matter of minutes.
Did you know that popular avocado is classed as a fruit not a vegetable? Avocado is a versatile, healthy superfood which has a number of health benefits and is a good source of potassium, fiber, vitamin C and vitamin E. The creamy flesh makes a great addition to any salad. Even your kids will agree!
To make this version of Healthy Avocado Chicken Salad, you will need the following ingredients: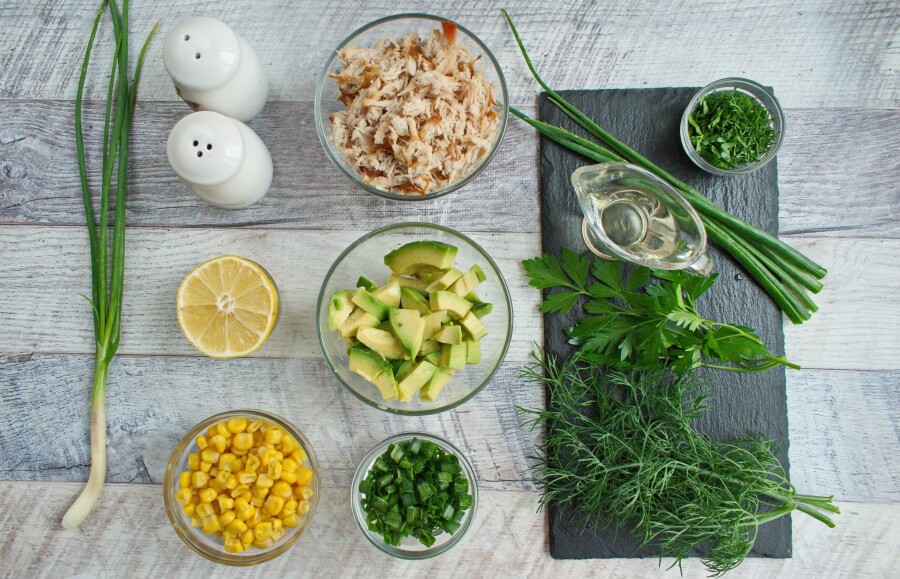 So, how do you make Healthy Avocado Chicken Salad?
Steps to make Healthy Avocado Chicken Salad
Assemble the salad

2

PREPARE SALAD DRESSING

1

Dress the salad

2

Serve