For the garlic and lime dressing

1/4 cup

Lime juice

fresh, from 1-2 limes

For the salad

2

Chicken Breast

large, boneless, skinless

2 hearts

Romaine lettuce

chopped

3

Eggs

hard boiled, peeled and chopped

2/3 cup

Blue cheese

crumbled
Summer Cobb Salad
This Summer Cobb Salad is a fantastically fresh and bright salad which will bring a rainbow of color to your table. I can never make this salad for my brother because he has a phobia of mixing berries or fruit with savory ingredients but I am the complete opposite – I love that combination of sweet and savory which this salad does so well.
I start by making a zingy garlic and lime dressing. I shake up my dressing in a mason jar and if any is leftover I refrigerate it and use it on another salad a day or two later. Then grill the chicken and assemble the salad ingredients in lines so that it resembles a rainbow. Enjoy!
To make my Summer Cobb Salad, you will need the following ingredients: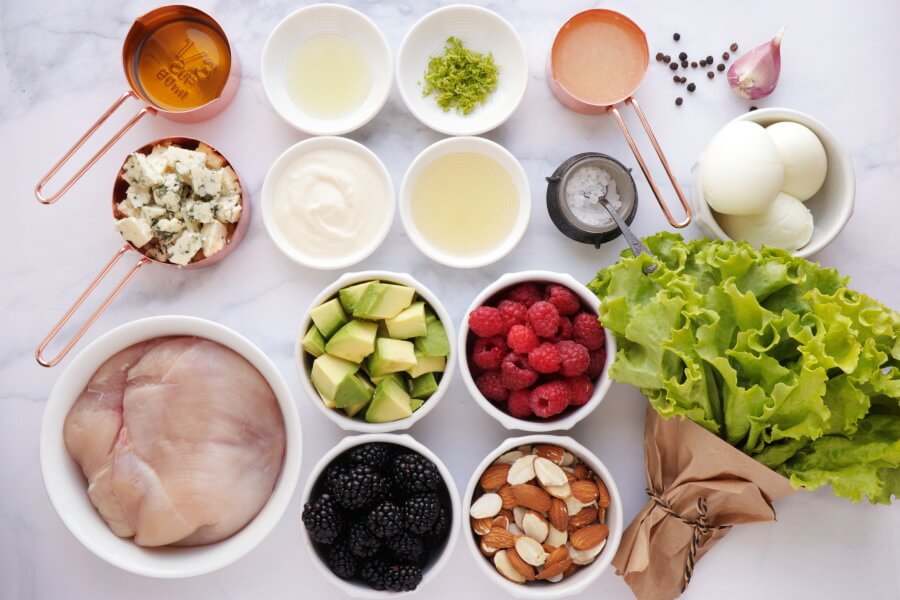 So, how do you make Summer Cobb Salad?
Steps to make Summer Cobb Salad
Prepare the dressing

2

Heat the grill pan

5

Season and oil the chicken

2

Grill

10

Assemble the salad

5

Dress the salad

1

Serve