13 Great Halloween Treat Recipes
These healthy Halloween treats are a great way to satisfy your sweet tooth, without relying on processed candy bars and artificial food dyes.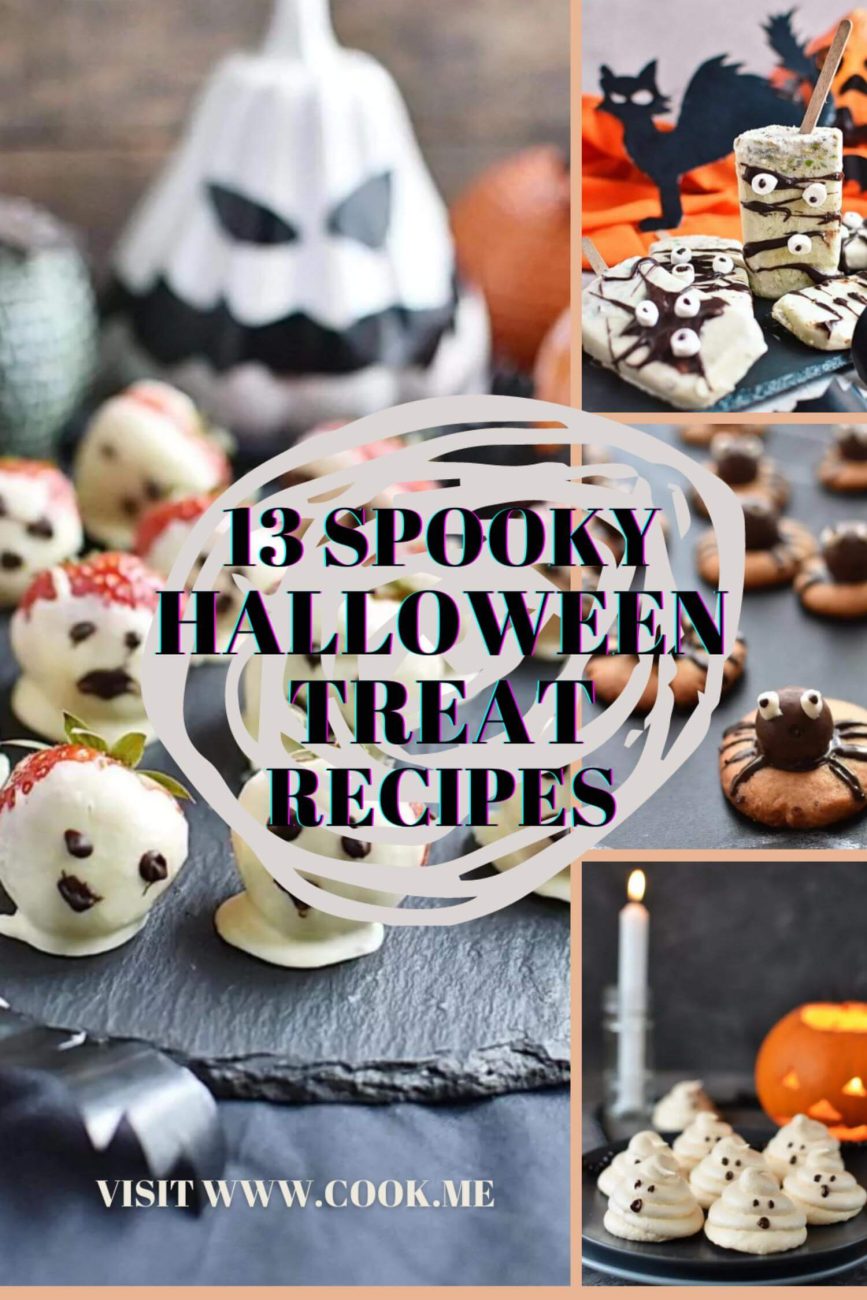 Scare up some fun with these Spooky Halloween Popsicles! They are the perfect spooky addition to a Halloween party. The ingredients are pretty straightforward, and the popsicles can be thrown together in minutes. Have fun and make a day of this with your kids. They will have fun making their…

Ingredients for Spooky Halloween Popsicles:
1 pt Heavy whipping cream
1 can (about 2 cups) Coconut milk
1 cup Condensed milk
1 Avocado
2-3 tbsp Milk
1 bar Dark chocolate
1 pack Candy eyes
And of course, no Halloween would be the same without these Boo! Chocolate Peanut Butter Bars. I use honey and real maple syrup instead of sugar, melted with peanut spread and mixed with corn flake cereal pieces for a chewy base. Next, use melted dark and white chocolate for the…
Ingredients for Boo! Chocolate Peanut Butter Bars:
8 ounces Chocolate
6 ounces White chocolate
1 cup Peanut butter
½ cup Honey
½ cup Maple syrup
6 cups Corn flakes
Black sprinkles
Almond Shortbread Owls are super cute Fall treats. I love to make these owl cookies when my kids friends come for a playdate. I serve them up with glasses of milk and they always go down a treat. What is it about owls that everyone loves I wonder? They're just…
Ingredients for Almond Shortbread Owls:
1 ½ cup Almonds
2 cups All-purpose flour
Lemon zest
½ tsp Sea salt
1 cup Butter
1 cup Confectioners' sugar
¾ tsp Almond extract
¼ cup Chocolate chips
¼ cup Almonds
2 tbsp Sunflower seeds
Peanut Butter Spider Cookies are the cutest Halloween cookies you can think of! I use Lindor chocolate balls to make the spider bodies and I stick on candy eyes to give them personality. My kids love helping me to decorate these cookies in time for Halloween.  I start by making…
Ingredients for Peanut Butter Spider Cookies:
FOR THE COOKIES:
⅔ cup Granulated sugar
½ cup Brown sugar
⅔ cup Vegetable shortening
⅔ cup Peanut butter
1 Eggs
1 tsp Vanilla extract
1 ¼ cups Plain flour
⅛ tsp Baking soda
⅛ tsp Salt

FOR THE DECORATION:
3 ½ oz Dark chocolate
24 Chocolate truffles
48 Candy eyes
Chocolate Pumpkin Cut Out Cookies are my son's favorite Halloween cookie – I make them for his class Halloween party each year and they always go down a treat! These cookies look like friendly mummies and they are a very instagrammable treat! I make these using my gingerbread man cookie…
Ingredients for Chocolate Pumpkin Cut Out Cookies:
1 cup Butter
1 cup Sugar
1 Eggs
½ tsp Pumpkin spice
1 tsp Vanilla extract
¼ cup Chocolate chips
2 tbsp Cocoa powder
2 tsp Pumpkin pie spice
3 cups All-purpose flour
2 tsp Baking powder
1 tsp Salt
Royal icing
Halloween Ghost Strawberries are such a fun recipe to make! Indulge your sweet tooth in a healthy way and get the kids decorating these cute ghost strawberries! This Halloween treat won't take hours in the kitchen, and you will need only three ingredients to whip it up.  Before you start,…
Ingredients for Halloween Ghost Strawberries :
24 Strawberries
8 oz White chocolate
¼ cup Chocolate chips
These Easy Halloween Cupcakes are the treats you need this Halloween! They are simple to make, they taste delicious and they look great on any Halloween party table. To decorate the cupcakes to look like ghosts, simply pipe cream cheese frosting onto the cupcake using a plain #24 piping nozzle…
Ingredients for Easy Halloween Cupcakes:
FOR CUPCAKES:
3 Large eggs
¾ cup Sour cream
¾ cup Canola oil
1 tbsp Vanilla extract
1 box (15.25 ounces) Chocolate Fudge Cake Mix
1 package (3.4 ounces) Chocolate pudding mix
½ cup Water
½ cup Walnuts
⅓ cup Chocolate chips

FOR FROSTING:
½ cup Unsalted butter
1 package (8 ounces) Cream Cheese
1 tsp Vanilla extract
⅛ tsp Sea salt
3 cups Powdered sugar

FOR EYES:
48 Chocolate chips
These Apple Spider Web Pops look so cool for Halloween. The contrasting chocolate decorations really make them look like spider webs. My kids love to help make these and then love to eat them of course! I'm sure yours will too! These pops are really easy to make, but they…
Ingredients for Apple Spider Web Pops:
2 Granny Smith apples
4 oz Bittersweet chocolate
2 tsp Coconut oil
4 oz White chocolate
Trick or treat time with these Spider Web Chocolate Fudge Muffins as a big time treat this Halloween. Delicious and moist, chocolate fudge muffins with intricate purer-web designs, made from dark and white chocolate, on top of each muffin. No Halloween party table would be complete without these tricky creations…
Ingredients for Spider Web Chocolate Fudge Muffins:
50g Dark chocolate
60g Butter
1 tbsp Milk
300g Self-rising flour
½ tsp Baking soda
85g Sugar
50g Caster sugar
1 Eggs
142ml Sour cream

FOR THE WEB TOPPING:
100g Dark chocolate
100g White chocolate
Spiced Roasted Apples & Blackberries is a quick and easy dessert that I love to make at this time of year. Near our home there is a huge collection of blackberry bushes that no-one seems to know or care about except us. Every year, we go blackberry picking with buckets….
Ingredients for Spiced Roasted Apples & Blackberries:
4 Apples
4 tbsp Honey
½ tsp Cinnamon
1 Oranges
250g Blackberries
These Spider Web Halloween Cupcakes undoubtedly make for a stunning dessert that is a must-make for a Halloween party. Turn a store-bought cotton candy into a spider web and transform these delicious chocolate cupcakes into spooktacular treats! These cupcakes are extra chocolatey (thanks to dark cocoa powder), soft, moist, and…
FOR CUPCAKES:
1 cup Sugar
1 cup All-purpose flour
½ cup dark Cocoa powder
1 tsp Baking powder
1 tsp Baking soda
½ tsp Salt
1 Eggs
½ cup Milk
¼ cup Vegetable oil
1 tsp Vanilla extract
½ cup Water

FOR FROSTING:
¼ cup Unsalted butter
2 cups Powdered sugar
½ tsp Vanilla extract
1 tbsp Milk

FOR SPIDER WEB:
1 container of White cotton candy
Bittersweet Chocolate Skeleton Cookies are so easy and so fun to make. I usually make a double batch of these and get my kids involved to decorate them. More cartoonish than creepy, these are the ultimate delicious chocolate cookies to share at a Halloween party or school costume bash. I…
Ingredients for Bittersweet Chocolate Skeleton Cookies:
FOR COOKIES:
1 cup Sugar
½ cup Butter
½ cup Canola oil
1 tsp Vanilla extract
1 Large eggs
1 ¼ cups All-purpose flour
1 cup Whole wheat flour
¾ cup dark Cocoa powder
½ tsp Salt

FOR ICING:
1 cup Powdered sugar
1 tbsp Milk
1 tbsp Corn syrup
Nutritional info
Looking for an easy dessert to round out your Halloween dinner party? These Pumpkin Cheesecake Bars are delicious and surprisingly easy to make and decorate. These cheesecake bars have two lovely layers, including an Oreo cookie crust and creamy pumpkin-cheesecake layer. They are full of classic warming fall spices and…
Ingredients for Halloween Pumpkin Cheesecake Bars:
FOR CRUST:
Cooking spray
20 Chocolate creme-filled cookies
2 ½ tbsp Butter

FOR FILLING:
2 (8-oz) packages Cream Cheese
1 cup Sugar
1 cup Pumpkin puree
3 Eggs
1 tsp Vanilla extract
3 tbsp All-purpose flour
1 tsp Pumpkin pie spice
¼ tsp Salt

FOR TOPPING (OPTIONAL):
Whipped cream
Chocolate chips