For the salad

2 cups

Red cabbage

shredded

2 cups

Chicken

cooked, shredded

½ cup

Mandarin

jarred, drained

1

Instant ramen noodle

crushed (flavor packet discarded)

For the dressing:
Chinese Chicken Mandarin Salad
This Chinese Chicken Mandarin Salad is a delicious salad with crisp lettuce and red cabbage and the added crunch of uncooked ramen noodles. It might sound weird to add uncooked noodles to this Chinese mandarin chicken salad but when they are broken up and crushed, the noodles act like croutons. Don't worry if you don't have any almonds, you can use cashew nuts or roasted peanuts instead.
Making this Chinese chicken salad recipe with mandarin oranges couldn't be easier. The hardest part is chopping and shredding the ingredients! Assemble the salad by combining the lettuce, red cabbage, shredded chicken, mandarin oranges, crushed ramen noodles, carrots, green onions and sliced almonds together in your favorite salad bowl.
So, how do you make Chinese Chicken Mandarin Salad?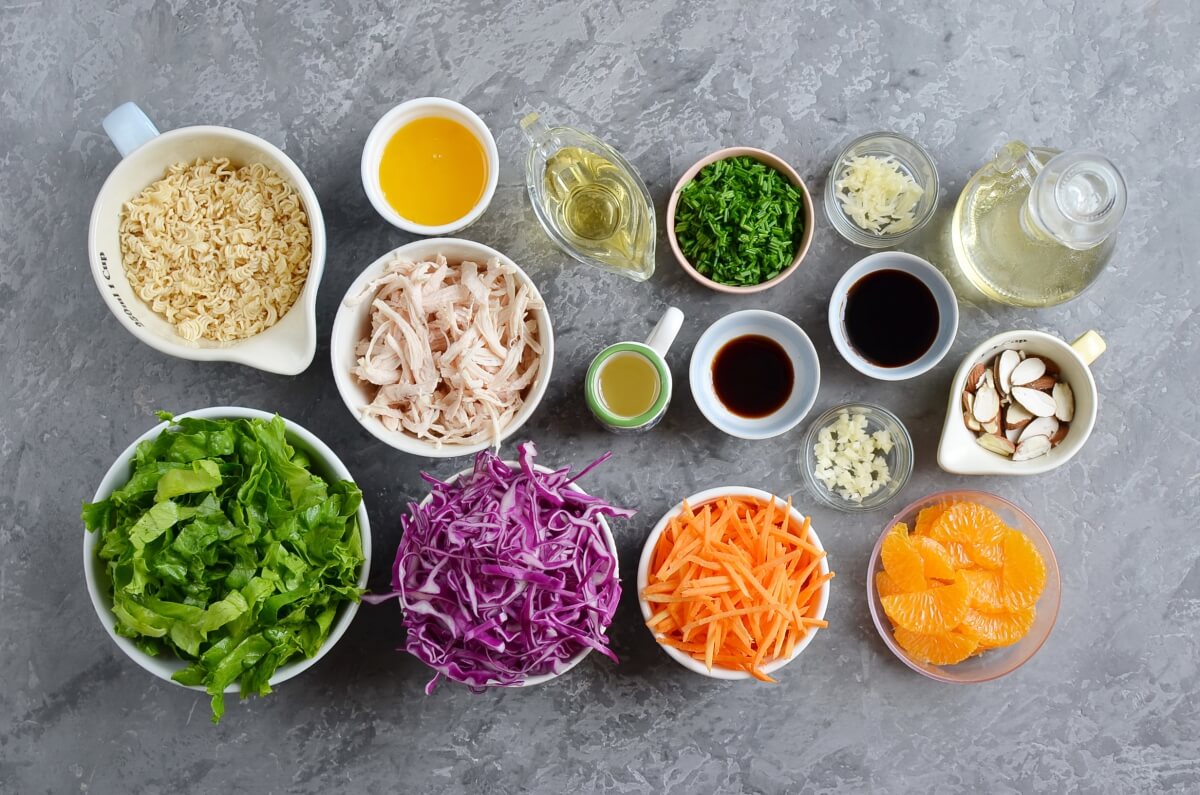 Steps to make Chinese Chicken Mandarin Salad
Assemble the salad

2

Make dressing

1

In a separate bowl or jug, mix 3 tablespoons of rice wine vinegar, 2 tablespoons of honey, 1 tablespoon of sesame oil, 1 tablespoon of hoisin sauce, 2 tablespoons of soy sauce, 1 teaspoon of minced ginger and 1 minced clove of garlic together. Gradually drizzle in ¼ cup of vegetable oil and whisking until the dressing is completely emulsified.

Dress the salad

2

Serve