1

Avocado

halved, seeded and peeled

2 tbsp

Cilantro

chopped fresh

1 tbsp

Lemon juice

freshly squeezed

2 tbsp

Chives

chopped fresh
Avocado Deviled Eggs
I love to make these Avocado Deviled Eggs whenever I have a party. These eggs can be picked up and held in the fingers while my party guests mingle. They look pretty and can be eaten in one bite which makes them perfect for parties this holiday season. I'll be serving them at my annual New Year's Eve party.
This take on deviled eggs is a modern version of the classic 70s appetizer. I mix egg yolks with avocado and pipe it back into each egg white half. I top it with crumbled bacon and garnish with chives and a dusting of cayenne pepper.
To make these Avocado Deviled Eggs, you will need the following ingredients: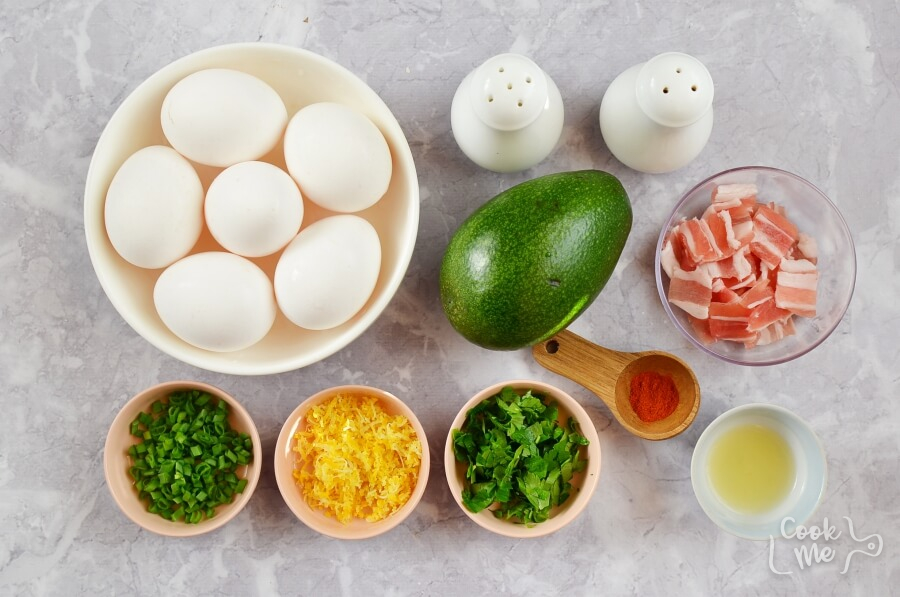 So, how do you make Avocado Deviled Eggs?
Steps to make Avocado Deviled Eggs
Cook the bacon

8

Boil the eggs

10

Drain eggs and cool

5

Mix yolks and avocado

5

Add cilantro, lemon juice and zest

2

Assemble the deviled eggs

5

Serve

1